Representation of LGBTQ narratives in mainstream media and cinema has gone on a long, arduous path. Before, gay characters are usually relegated to comedic stuff. We don't get to see a gay character portrayed on the big screen much less a gay actor essaying a gay role. Although we still see these stereotypical comedic tropes both local and abroad, and in Hollywood, where straight actors still get to play gay characters, there is a forward shift towards equal and genuine representation with the successes of both mainstream and independent films centered on LGBTQ narratives and transgender actors portraying trans roles.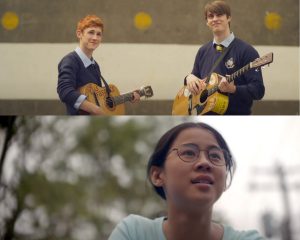 The Oscar win of Moonlight, might have heralded this shift, and can be considered a corrective to that upset a decade ago when Brokeback Mountain lost to Crash. While Barry Jenkins' story of what it is to be black and gay in America became a pop cultural signifier for this change, there have been other films in the independent circuit that signal this growing demand and interest to seek for queer stories.
Some of my recent favorities include the intimate working-class romance God's Own Country, Cannes-winning HIV drama 120 Beats per Minute, which tells about the AIDS activism in 1990s France, and last year's sensational Portrait of a Lady on Fire by Celine Sciamma, which depicted a lesbian story away from the dominant male gaze. Trans narratives were elevated when trans actresses get to play lead roles in films like Tangerine by Sean Baker and Sebastian Lelio's A Fantastic Woman, with trans actress Daniela Vega sharing the Oscar stage with Lelio when the film won Best Foreign Language Film Oscar in 2018.
Unfortunately, these films are available in streaming platforms not accessible in the Philippines, where it's dominated by Netflix. So for the month of June, which is known globally as Pride Month, I sought out some titles in the streaming platform. A quick key-in of "LGBTQ movies" will give you a selection of some lesser known films, some newly-released, that might be worth checking out if you want to explore more queer narratives. The selection does not fully cover the LGBTQ spectrum but offers variety in genres from coming-of-out comedies to absorbing documentaries.
I was not able to watch the entire list but these are just a few of my recommendations:
Handsome Devil (2016). The film, which is set in an Irish all-boys school, follows the trope of the coming-out story. But the film did not comfortably settle into the blossoming romance and instead zeroes in on male friendship and the genuine bond that results with the acceptance of oneself first. It also stars a memorable portrayal of Andrew Scott as the English teacher Mr. Sherry who forms a bond with rugby jock Conor and nerdy outlier Ned.
The Half of It (2020). Coming out films are usually in the teen drama-comedy genre and Alice Wu's new film does not diverge much from this path. Similar to its counterparts Love, Simon and Alex Strangelove, the film is very much rooted in the comforts of friendship. While the protagonist Elie Chu began writing love letters for cash to a girl she eventually falls in love, what unravels also is the bond she solidifies with Paul, her male friend. What I liked about it is that the coming out does not feel like an event, but instead a natural and necessary thing, similar to the trains that pass by Elie's house.
Beach Rats (2017). I am kind of on the fence with Eliza Hittman's Sundance film because I feel it could have been more compelling as a short. But what she presented in the story of Frankie, an "beach rat" like his male friends and cruises for older men online is the inner struggles of and sometimes the perils associated with coming to terms with one's sexuality in an environment that is dissimilar from the suburban comforts of Love, Simon and Alex Strangelove.
I Am Happiness on Earth (2014). It was a surprise to find an arthouse film in Netflix so consider yourself warned if this film will not suit your mainstream sensibilities. Julian Hernandez's film is intentionally plotless. The film focuses on three segments with the film's protagonist appearing on the first and third, capturing the stages of euphoria and isolation, which is the way the director kind of describes modern day gay romance.
LOEV (2015). A story of Manhattanite real estate exec Jai who's on a weekend rendezvous to Mumbai and Western Ghats with his close friend, musician Sahil (Dhruv Ganesh in his last film role). Those who have seen the film take issue with the contentious rape scene, that although brief, is shocking compared to the sweet-natured aimlessness of the film's first half. But I still like to recommend you to see this one being the first gay Indian film that I saw, and the fact that it is still difficult to film LGBTQ stories with existing Indian laws.
The Death and Life of Marsha P. Johnson (2017). The documentary probes into the death of transgender activist Johnson whose dead body was found floating in the Hudson River in 1992, becoming the springboard in exposing the continuing struggle of trans rights and violence committed against trans people. It also gives a brief history of trans activism. Other worthy LGBTQ documentaries worth checking are: Circus of Books, about a magazine and video shop that caters to the gay market which has since closed, and A Secret Love, about a lesbian couple who has kept their relationship for decades.