Davao City – A golfer's health safety is the main priority for South Pacific Golf and Leisure Estates when its fairways re-opened to the public for two weeks now.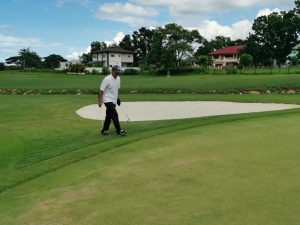 New normal safety protocols such as the use of face masks, the use of the hand sanitizer through a dispenser and foot disinfectant, a two-way lane for entrance and exit at the clubhouse and social distancing within players are among the safety protocols observed inside the golf course of which were approved by the IATF and the City Government of Davao under the new normal for areas under the General Community Quarantine (GCQ).
'We assure the golfers that they have to follow our safety protocols while they are playing and inside the clubhouse,' said South Pacific Golf and Leisure Estates manager Elson Alvaran.
Upon playing, golfers including juniors (21 years-old and below) and seniors (60 years-old and above) are only allowed to have a maximum of threesome per hole and doing away with caddies in which they will be assigned per flight as spotters or markers as well as tasked to repair divots and rake bunkers. Players are also required to follow the one-player per cart and will be the one who transfers their golf equipment from their respective vehicles to their golf carts.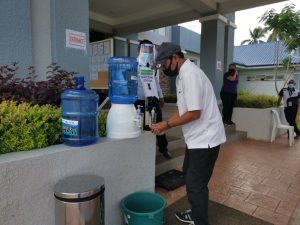 There are no use of lockers, so players should bring their own towels and water jugs when playing as well as their own snacks.
Some 80 golfers are only allowed per day for not to be crowded and the purpose of following the social distancing rule. Health checks for caddies were also done recently.
For tee time reservation, one may call or text at 0905-4099023.
'We still await the approval for the opening of our golf and country club restaurant in which we will have to accommodate only 30 percent of the total number of participants as required by the new normal safety protocols,' he added.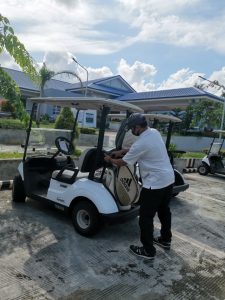 Noted for its all-weather course, the South Pacific Golf and Leisure Estates located in nearby Mintal, is now on its third year since completing its 18th hole landscape on September of 2018. The course which under the auspices of Sta. Lucia Realty and Development Incorporated opened its front nine on June 1, 2016.
Golf is one of the sports approved during the General Community Quarantine (GCQ) aside from jogging, running, cycling, swimming, tennis, badminton, equestrian and skateboarding.