After a six-year stint at Pearl Farm (resident GM, '94 to '98) and then at Nenita Quality Foods ('98 to '20), I started a furniture making company "BAY WOODCRAFTS". There I started to meet some artists – Ann Pamintuan, Maricris Floirendo, Brando Cedeno and Daryl Descallar. During this time, I met Jun Alfon, then married to my cousin Corinna Santos. Jun has done several portraits – my parents and Gen. Santos, my Lolo, whose Alfon-portrait hangs at GenSan City Hall.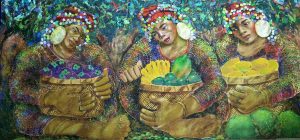 It was through Jun that I met Atty. Timothy "Tim" Te – a true patron of artists, like Jun, Errol Saldana, Boy Luna and Rey Fuentes. I became really close to Tim after I relocated my furniture company and my residence to CUA's "PROBINSYA" – an artist sanctuary with 2 galleries, a tree house, restos, billiard hall, and a stage where there were nightly performances by 1 or 2 live bands: Popong Landero and Mike Pamintuan were two of them I remember. My daughter Patricia, then 2, now 20 years old could sing the lyrics to Bob Marley's Reggae classic "NO WOMAN NO CRY". One night, there was even a boxing match on a boxing ring – staged I think by Pete Laviña, Ver Bermudez and Aris Albay. Fun-tastic days – and Cannabis-scented nights!
Jun Alfon was an original member of the Davao Art Foundation (DAF) along with Errol, Lito Pepito, Arnel Villegas, Rey Fuentes, Bryan Cabrera, Jun Cayas, Rey Bollozos. I also met Vic Secuya, Bruce Brown during the "Probinsya" days.
Jun has relocated to Las Piñas where he has had many exhibits. One of the most recent was his SOLO at Dusit Thani, Makati – which I attended.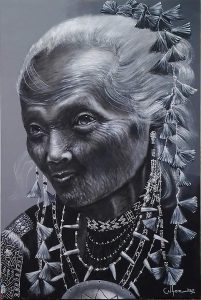 Jun, who's originally from Cebu's Alfon movie-icon family, had a SOLO there and got "quarantined " for the last 3 months – and he's still there.
The Many Colors of Jun Alfon
Jun Alfon, artist extraordinaire, is a rare breed.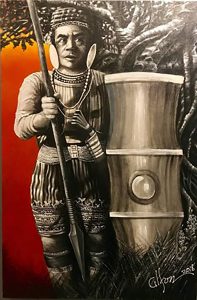 He is as rare as the subjects he immortalizes on canvas: the breed of men, women, and children from the uplands of Mindanao. They belong to many tribes, collectively called Lumad, who are precariously hanging on to their ethnic culture.
"Tourists make them smile for their cameras and videos, turning them into posters," Jun laments. "They are being coerced into commercialism!"
These are angry words from someone who values the beauty of indigenous cultures which, until the onslaught of technology, have been untouched. Jun feels connected to them. They represent the COLORS of his own life.
Gray: Changing Landscapes
"These special people are just as important as we think we are. Their culture ought to be respected and left alone," Jun says, although he recognizes the inevitable—globalization seeping into the terrain of the countryside and changing the landscape.
Green: Young Years
Born in the 50's, Jun lived in Cebu where his father, Fernando Alfon, Sr. was a filmmaker. "He was always creating new ways of doing things."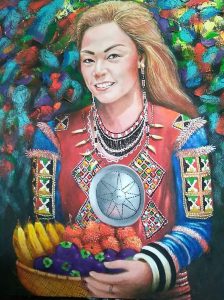 Very much his father's son, Jun at age four could draw everything lifelike! His artistic pedigree includes writers and musicians: his aunt, the esteemed writer Estrella Alfon, would give him books to read and encourage his art; all his siblings play a musical instrument; and Jun himself plays the drums and the keyboard and was, in his youth, a member of two bands.
Red: Art or Bust
Jun pursued the arts, even if his father was forcing him to take up law. To his father's disappointment, Jun enrolled at the UST, College of Fine Arts, where he had to fend for himself by selling his paintings in Mabini, "the hive of unrecognized artists."
After graduation, Jun apprenticed as a stage designer at the Cultural Center of the Philippines complex under Willie Buhay, interior designer, who pushed Jun to take up serious painting. Suddenly a door opened. Jun was commissioned to do all the paintings for Ting-Ting Cojuanco's living room. Now armed with confidence and a portfolio, Jun journeyed to Davao to develop his art further.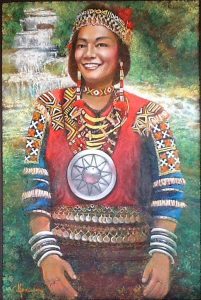 Orange: A New Sunrise
In Davao, he worked with Victorio Edades, considered the country's father of Modern Art, from whom Jun learned to appreciate modern styles. Edades introduced Jun to Odette Alcantara, the owner of Heritage Art Gallery in Cubao, who sponsored Jun's trip to Manila where more doors opened to him.
Jun began to defy art rules learned at the university. His friends in the world of realism taunted him for his treacherous turnabout. But Jun could not help himself, like being unable to stop the sunrise.
Blue: Up in the Sky
Jun trekked to the uplands of Mindanao and discovered people with a culture all their own. It was love at first sight. He knew then that he had a role to play in their lives.
He stayed with them, and with his brushes, he enlarged their feet and hands (movers of earth, he called them) which give hard work a bigger meaning. He captured the brilliance of their handmade jewelry and clothes.
Although these tribal people have chosen to take root where they are, Jun takes them to various places through his canvas. His art patrons come from around the world.
White: The Creator of Colors
Jun personally met the Creator of colors. "Jesus Christ was introduced to me by my sister Virgie. The experience was like a blinding white light. From then on, my life changed."
Now, his every art piece is a celebration of God's goodness. "But my works are just a poor copy of God's original creation."
Primary colors: "Mystical and Magical Mindanao"
That's the title of Jun's coffee table book that features his past works. Published in the US, where Jun has had solo exhibits, the book encapsulates his fascination for the Lumad and their culture. At the rate he is painting, a second book is forthcoming.
If not for the Covd-19 pandemic, his 41 st solo exhibit in Cebu Ayala Center would have showcased: the Tbolis, Mandayas, Maranao, Matigsalog, and Bagobos.
All colors: Portraits and Murals
Jun's portraits spotlight art patrons (here and abroad) wearing the clothes and jewelry of the Lumad. His commissioned building murals are all focused on the Mindanao tribes he treasures.
Some Mindanao art collectors who value Jun's art are: Patricia Montemayor; Dr. Marilyn Navales; Melba and Queen Sebastian; Margie Moran-Floirendo; Atty. Tim Te, Bebot Dizon; Aida Ford of FordAcademy, School of Arts; Tita Ayala-Lacambra; Aida Eriarte; Atty. Amadeo and Rosa Munda; Annabelle Carriedo; and Josie Tiongko.
Jun's memorable Mindanao solo exhibits were held at: Villa Margarita hotel, Ayala Abreeza, Davao Museum, and Davao Insular hotel."By God's grace, I look forward to another art exhibit in Mindanao,"Jun prays.