Where do I begin to tell the story of the incomparable music maestra, Nelly Domingo-Castro? I've always been an avid fan of hers since the time the extremely talented tita Nelly became my strict voice coach for the numerous LCB-PAC musicals I participated in. Of course, that is not to fail to mention that she was a family friend who was truly close especially to the music-loving Dr. Elias P. Dacudao clan. Celine Dacudao-Garcia, a concert pianist herself, considered tita Nelly her BFF to her last breath. Tita Nelly, along with Davao's respected concert pianists Mila Cabaguio-Jocson, Inday Fucoy-Montero, Celine Dacudao-Garcia and Nenita Belda-Azarcon captured the fascination of Davao's true music lovers with their brand of classical music.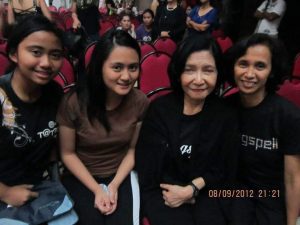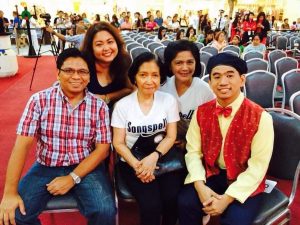 Accompanying my late cousin/aunt, the late Celine Dacudao-Garcia, we watched every Songspell presentation and we were truly impressed with tita Nelly's ability to select music to perform, arrange performances, and work with Songspell ensuring that each member perform well. Tita Nelly established Songspell in 1996. Yes, we watched tita Nelly's Songspell performances for several years. We witnessed the young members grow into finely honed performers who would eventually graduate and join the equally strict maestro Bong Aviola's Himig Singers. Nowadays, it's never easy looking for exemplary young Davaoenos among the millennials who are worthy of inspiring others. With Songspell, you could not help but feel relief that there was still hope after all. That's exactly how I felt whenever I watched the young and eager members of Songspell in their presentations in the past under the strict guidance and direction of tita Nelly.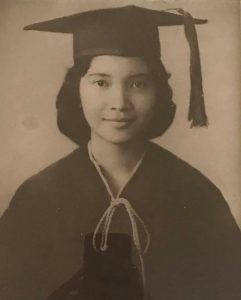 Naturally, you do not ignore the fact that much of the compliments should be accorded to maestra Nelly Domingo-Castro, one of Davao's most celebrated and so dedicated concert pianist, musical director, and mentor to so many. Tita Nelly will remain a prominent figure in Davao's music history for training, guiding and nurturing talented Filipino pianists who have, since then, gained international prominence for themselves. I can mention the internationally renowned Dorothy Uyboco-Uytengsu who is based in Vancouver; the Hong Kong based concert pianist Michael Lopez; CDO's distinguished concert pianist Rodolfo Golez; and the well respected classical pianists Christine Lim and Albert Tiu.
Tita Nelly was born in Batangas City on May 23, 1943. Her parents were both music lovers such that tita Nelly and her elder sister, Mary Domingo-Maravilla, pursued their respective music degrees in college. The talented and music loving sisters later on opened the pioneering Domingo Music School of Davao City. Tita Nelly distinguished herself as the first gold medalist in academics and performance by the time she graduated at the Santa Isabel College of Manila in 1965. A year later, she was enrolled at the American Conservatory of Music in Chicago, USA, where she earned her Master's degree in Music major in Piano in 1968. It was at the American Conservatory of Music where she first taught music after graduating; and later on, moved to Bonn, Germany.
It was in 2009 when Nelly Domingo-Castro was recognized "for her enduring commitment in the noble profession of piano teaching, particularly molding her students to become world-class pianists, while living the values of humility and simplicity of life" by her alma mater, the Sta. Isable College of Manila.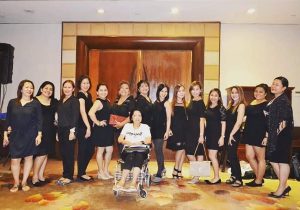 Through the decades, music maestra Nelly Domingo-Castro lovingly showed us Davaoenos that ours is a wonderful culture of perpetual celebration through beautiful music. And that, in itself, is music maestra Nelly Domingo-Castro's enduring legacy. Maraming salamat, tita Nelly, for all the wonderful music you shared with us. May you now rest in everlasting peace.
Thank you, Koi Sevilla and Hannah Balite, for the pictures.