Seventy-nine locally stranded individuals (LSIs) from Manila arrived in style yesterday on board the Barko ng Republika ng Pilipinas (BRP) Gabriela Silang, the largest and newest offshore patrol vessel of the Philippine Coast Guard.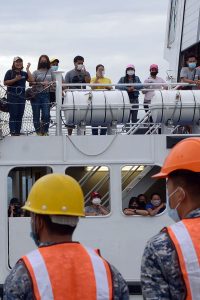 Commander Garry Laynesa, the head of Coast Guard Station Davao, told TIMES that the 83-meter vessel docked at the Sasa wharf around 6 a.m. to disembark 79 LSIs from Manila.
Gabriela Silang was detailed to ferry OFWs and LSIs from Manila to Visayas and Mindanao as support of the PCG to the Hatid Probinsya Program by the government to decongest Metro Manila and allow individuals to go home to their families.
Among the passengers include eight from Davao City; two in Matanao and Bansalan Davao del Sur; two in Sawata and Pantukan, Davao de Oro; 14 in Maguindanao and Parang Maguindanao; one in Cotabato City; four in North Cotabato; four in (Carmen, Kabacan, Alamada and Sarangani, North Cotabato); one in Davao Oriental; one in Davao Occidental; one in Bayagan Agusan del Sur; 38 in Davao del Norte; one in Prosperidad, Agusan del Sur; one in Dinagat Island; and one in Kibula, Milangan Sarangani Province.
Meanwhile, the 69 locally stranded individuals already disembarked in General Santos City on Wednesday afternoon.
The Coast guard Davao commander also said the Coast Guard will just assist the Davao City Health Office personnel, who will handle the screening process.
"We have our own medical personnel on standby just in case they need immediate medical assistance," he said. "Of course, we will assist in the inspection of their documents upon disembarkation and body temperature scanning."
The local government units have been wary about the program to bring LSIs back to the provinces as they might not have the capacity to absorb the sudden surge in COVID-19 cases.
BRP Gabriela Silang was designed with the OPV-270 MK in mind and was turned over to the Coast Guard in December 2019.