About a week or so ago, I saw a post on an Davao Barter Community announcing that they no longer allow 'charity' in the community. This came after individuals who have no goods to trade posted on the community to trade their labor in exchange of essential goods like food or milk. Naturally this was a welcome happening to goodhearted people. The posts were swarmed with support and others even went out of their way to help, not anymore accepting the labor that the member previously offered.
Then the administrators of the community decided to prohibit it. In one post they said that to keep the spirit of bartering, they will no longer accept posts asking for donations and charity, and that they will decline posts with those requests. Some members commented that this move is just right so that it is fair to others. One member asked what about those who request to barter items with their services or labor? No direct reply was given by the administrators.
I was disheartened when I read this. It seems that the administrators of the community is missing the point. Barter is not limited solely to material goods. It had to deal with goods traded with services and goods traded to goods. That's how communities of the olden times thrived. This move to limit barters only to material goods is like putting a demarcation line: no goods = no barter. It's almost just the same with no money = no goods. So then, I'd like to know if the barter communities that are emerging now are solely for those who can afford, namely the middle and the upper class. What about the rest? Is this just a manifestation that those who have can only work with those who have?
I hope that these communities will also use an inclusive lens in looking at things. WE are now being called to understand that in this society, there are so many people who have no goods to trade but they have their skills. That is a given. If we seek that barter communities thrive with a heart, it has to accept the offers of those who have less. We have to accept that we they are part of the ecosystem. I have read too that the administrators in this community are asking the members to deal with kindness.
What best way show kindness than charity? But that's another story. The community administrators have decided that the community is not for charity. I respect that.
Don't get me wrong. I love the idea of bartering. I even wrote about that before. I just cannot help but express my sadness about this. Many of us, I know, have been looking for alternatives other than the currency economy. This is why, I think, that barter communities are a hit nowadays. We are seeking to empower ourselves with connection and capacities and not solely rely on money as a means for exchange.
It's also equally disappointing to see community members bargaining to buy the goods posted for barter. Maybe they're not really aware that what they're doing is a form of disrespect. Anyhow, an administrator had to warn that members who keep doing so will be blocked.
I am sure that it is not just a happenstance that the mushrooming of barter communities came at the height of COVID-19. I know that there is a reason for it. The virus has ushered for us a new way of thinking and a new way of looking at things. Maybe it has come so that we rely once more to the communities in our center and our peripheries. I hope that these initiatives will continue to thrive. I trust that they will. I trust too that their judgments in running these communities will also allow a space for those who have limited resources and privileges. So it is.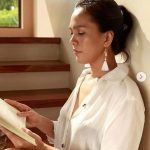 Joan Mae Soco-Bantayan is a teacher at Tuburan Institute, Inc. She is also a wife and a mother of two. For questions and comments, feel free to drop her an e-mail at joanmae1212@protonmail.com or visit her Facebook page, Joan Mae Soco.