Last Wednesday, I had the chance to go out and buy necessities for our home. I was standing along Ilustre St. and I had the chance to observe the whole place and the people going about.
Somehow, the street made me feel like it's Christmas Day (albeit lonelier) with very few individuals seemingly on the rush and closed shops. Times Square played loud upbeat music as if there's a celebration, a stark contrast from the general emergency vibe. Nevertheless, a man who earns his living through dancing outside establishments did his best and was earning a few pesos for his little craft.
Inside the grocery, I observed smart frontliners who were attentive to questions and were there with somehow assuring presence. Shoppers were trying their best not to complain about long queues at the payment counters and were even kind enough to let people with only an item or two get ahead.
Then I thought of the homes, urban gardening and online enterprises are growing in increments. It is inspiring how we see first time gardeners exalt over a sprouting bud or a flowering okra. Many families are seeking to barter some vegetables to communities. Our dear senior citizens whose mobility have been limited are taking up gardening with the support of their families. It's becoming a trend, perhaps gardening is a better way to cope than YouTube.
People support each other's enterprise. No longer are we shying away from selling. Couples are hustling together to fend for their families. It's such a beautiful struggle. Given the news that there are about 10,000 shops to close, the innovative Filipino families are resorting to different ways to make a living.
While our nation is seemingly always in bouts against each other for different positions on issues related to politics and economy, we, the people, always try to get hold of an ideal, even though it's usually vague. For instance, this incident about NCRPO Director Debold Sinas, people do not turn blind eye to a perceived abuse of power. The reactions elicited by the recent statement of Sinas about not condoning the wrongdoing of Police Officers in the implementation of the Community Quarantine Protocols has actually proven that people are awake. A lot of people were laughing at his statements and call for action from the government. Even though some may seem apathetic, incidents like that of Sinas and the Anti-Terrorism Bill have people speaking up.
Dissent is also a sign that we are giving our best.
Everything seems chaotic, but I can also observe the inner order of things. The big picture of our country seemingly speaks to us of disruption, confusion, and disorder. Although I cannot deny the will of the President to carry the country through this crisis. But I am not very sure of his minions. On the other hand, the smaller pictures of home fronts, at least for the lower and middle class, present an image of trying to survive and staying afloat – and even of co-carrying each other. This strikes balance to the image of despair.
These images came to life in my thoughts as I moved past the less noisy sidewalks of Ilustre. Everyone, especially those in the ground level, was giving his/her best or so I would like to believe. And so this leads me to hold onto hope. We will be all right. Let us rather hold on to stubborn optimism. No matter how things seem to allow unlimited pessimism, let us believe that we will get through. No less than alive and healthy. Let's keep going.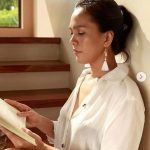 Joan Mae Soco-Bantayan is a teacher at Tuburan Institute, Inc. She is also a wife and a mother of two. For questions and comments, feel free to drop her an e-mail at joanmae1212@protonmail.com or visit her Facebook page, Joan Mae Soco.