The Vancouver Philippine Consulate General is celebrating Independence Day via an online program called Tatlumpung Araw ng Himig Pilipino: Isang Pagbubunyi (30 Days of Filipino Music: A Celebration) for the month of June. Anna Pensacola of the Philippine Consulate General in Vancouver had compiled pictures from your fabulous and unforgettable Barong Filipino collection. You will be pleased to know that it will air on YouTube starting on Day 4. My duo partner and myself will be providing the music (2 pianos/4 hands) of Pop Medley by Ryan Cayabyab while the fashion show featuring your barong collection will be highlighted. This is a heads up to alert you of the upcoming presentation. Thank you for your unique Barong Filipino collection that you had generously allowed the models to wear, was the message I got a few days ago from the Davao-born international concert pianist, Dorothy Dotty Uyboco-Uytengsu. I was truly surprised and excited with the news that I immediately contacted my Vancouver-based sister to send me the YouTube video as soon as it comes out.
In a recorded message by the Philippine Consul General Maria Adrelita Austria, she reiterated that the 30-day celebration of the Philippine Heritage Month is in recognition of the admirable contribution of Filipinos in Canada. The Philippine Heritage Month is a very unique honor conferred by the Canadian Government to the Filipino Community, ConGen Austria emphasized as she continued, It is unfortunate that we cannot celebrate in the usual manner like in the past years. As we all know, it has been a challenging time since the last couple of months. As we cannot celebrate with friends and family in a big manner like before, we usher in an alternative celebration called Tatlumpung Araw ng Himig Pilipino: Isang Pagbubunyi. We showcase our culture and the talents of our people. We celebrate both our history in the Philippines and in Canada. We celebrate our unique contribution to Canada. ConGen Austria also mentioned that this special event is dedicated to the Filipino frontliners working in various hospitals in Canada and to the Filipinos who sacrifice a lot to be able to help our country.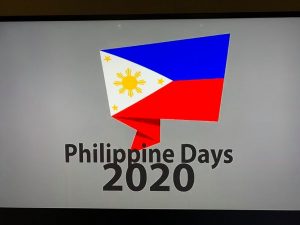 Also included in the YouTube video Philippine Days 2020 is a short message from the Hon. Jonathan Wilkinson, a Member of Parliamentary of the Government of Canada, recognizing the important contributions of Filipinos in the progressive development of Canada.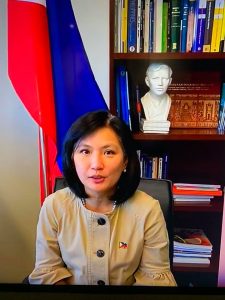 It was four years ago when Dorothy Uyboco-Uytengsu told me, It was a volunteer job I did willingly because I believed in the project which would seek to raise awareness to the beauty, artistry and fine craftsmanship of the Filipinos national attire in an international setting; and at the same time help encourage the cultural preservation of our traditional heritage. It is only Filipinos in the world who are distinctly known to use textiles made of pineapple fibers that are meticulously woven using back-strap looms for their national costume.
The ACAT, an arts organization led by Filipino-Canadians involved in promoting awareness of traditional and contemporary Filipino arts, literature and culture within the Filipino-Canadian Community in British Columbia and the other provinces in Canada, did not have the budget for the proposed barong exhibit cum fashion show. So Dorothy performed two piano concerts with her piano partner, Victoria Francisco, to raise the much needed funds for the Barong Filipino Fashion Show to be staged. Take note that this was the first ever Barong Filipino Fashion Show to be held in the North Vancouver region.
So it was when I left for Vancouver on September 11, 2016, bringing with me a suitcase filled with 30 barong Filipino for the fashion show. Arriving at my sister and her husbands Richmond residence jet-lagged and exhausted after a long trip from Davao, Dotty was there waiting patiently and asking me to show her the barong collection I brought with me. Oh yes, my producer cum manager Dorothy also gave me several assignments to do including approving the beautiful poster for the event designed by Filipino-Canadian artist, Leo Cunanan, Jr. plus the schedule to meet the press.
Co-sponsored by the Philippine Consulate General in Vancouver, the strictly by invitation only Barong Filipino Fashion Show directed by Romina Urra-Gonzalez (a towering mestiza supermodel of Manila in the 1990s) was held at the public reception area of the Philippine Consulate General office in its classy address at 999 Canada Place.
In his welcome message, Consul General Neil Ferrer, who wore my Tausog-inspired barong painstakingly made by Carmaela B. Alcantara, mentioned, I hope this fashion show will promote a better understanding and awareness of the rich and diverse Filipino culture here in British Columbia through an appreciation of the finely crafted Barong Filipino made from indigenous, organic fabrics of the PhilippinesFilipinos are one of the fastest growing migrant communities in CanadaI wont be surprised if in the future, the Barong Filipino will be one of the common outfits here especially during summer, or in various formal occasions as long as they are indoors. We have not yet developed a barong with wool or thermal lining.
The fashion show, confidently emceed by Vice Consul Cham Guevarra, was divided into two segments with background Pinoy music meticulously prepared by Dotty and Anthony Uytengsu and Anna Pansacola and played by DJ Danilo Maata. The first segment consisted of traditional barong Tagalog followed by the Barong Mindanao. The featured barongs are the versatile products of the artistic collaboration of our naturally gifted Filipinos: from the dexterous but aging pina and sinamay weavers of Cecilia Villanueva of the House of Sinamay of Iloilo and the late Khrystian Reyes of Aklan; talented fashion designers namely Alfonso Guino-o, Rene Salud, Patis Tesoro, Garimon Roferos of Dubai, Otoi Mercado, Joao Tarepe, Jaime Laran and Chardin; and Davaos amazing visual artists Carmaela B. Alcantara, Mariano Catague and Gilbert Suan who hand-painted some of the barongs. The oohs and ahhhs expressed by the audience as each barong was paraded on the makeshift catwalk gave me palpitations. Such distinguished guests as Member of Parliament Joe Peschisolido (who wore my Mandaya-inspired sinamay barong), Minister of Justice and Atty. General of British Columbia Suzanne Anton, representatives from the Indonesian and Malaysian Consulates, Japanese designers, among others, were in total admiration when they personally congratulated me.
In my closing remarks, I told the guests that I was truly grateful for having been given the privilege to showcase Mindanaoan talents fine artistry through their barong creations. The event was my glorious way of paying tribute to these hard working men and women who will never be as famous as their Manila counterparts but whose amazing works are keeping alive Filipino traditions. They are truly worthy of respect and admiration.
Fotos:
YouTubes Philippine Days 2020 featuring Tatlumpung Araw ng Himig Filipino: Isang Pagbubunyi which shows the Barong Filipino collection of Archt. Michael Ebro Dakudao
North Vancouvers Philippine Consul General Maria Adrelita Austria
3a-3d. Proudly Davao-made Barong Mindanao featured in Vancouver