Reinvigorating consumer services is what most hotels, understandably, are doing in navigating their path against financial peril with the foreseeable recession about to start gnawing on global economy. Yes, the hospitality industry is in a panic attack as it is presently operating on a survival mode. And to think that our tourism industry is expected to stay depressed until at least mid 2021. "We are coping and we have the resilience to ride out this Covid 19 pandemic," says Dusit Thani Davao's Marketing & Communications Manager Kathy Calilao. Dusit Thani, which means "Town in Heaven," is quickly capturing the change in customer demand and thus, hopes to turn this crisis into opportunity.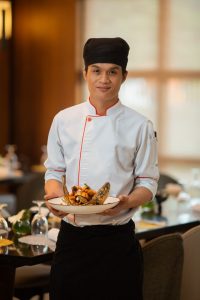 "Quarantine meals do not need to be boring especially now that you can enjoy your favorite dishes from Dusit Thani Davao's Madayaw Cafe, Benjarong Davao and Dusit Gourmet with your loved ones in the very comfort of your own home," informs Cathy. Dusit Thani's culinary offerings of royal Thai cuisine is prepared with a contemporary twist to suit the cosmopolitan palate. Mind you but Dusit Thani has been a partner of the Bangkok Culinary School with a joint venture with Le Cordon Bleu of France.
Presently available for pick-up and delivery are heavenly delicacies which are Davao foodies' favorites like Madayaw Cafe's lechon kawali; Benjarong Davao's Tom Yam Gung (hot and sour soup with prawns), Gang Khieo Wan Gai (green curry chicken), Gaeng Massaman Nue (beef massaman curry) Pad Thai Gung Sod (fried noodle with prawns); and Dusit Gourmet's ube ensaimada and Malagos chocolate cake, among so many more.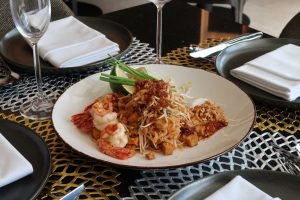 Dusit Thani's Benjarong Davao is best known for its authentic Royal Thai Cuisine. Its resident chef, Suthin Songmuang, is a native of Udon Thani, which is located northeast of Thailand. This Thai chef learned the basics and developed such a passion for Thai cuisine from his mother's kitchen at a young age. He trained and worked diligently to master his culinary craft under the guidance of a Thai Kitchen Master. He then proceeded to the Middle East where he spent seven years working in various Thai restaurants operated by reputable international hotels. The young chef then left for Germany in 2017; and later, was offered the enviable position of Chef de Cuisine at dusitD2 Nairobi. Presently, chef Suthin Songmuang is the Chef de Cuisine of dusitD2 Davao leading his culinary team at the sleek Benjarong Davao.
For family meals, Dusit Thani Davao offers set menus with a starting price of PhP 2,000.00. These set meals include an appetizer, soup, main dishes and dessert. One can choose from Dusit Thani Davao's Thai, Filipino or Western dishes. Orders for both pick-up and delivery must be placed at least 24 hours in advance. The hotel offers free delivery service within a 5-kilometer radius. Pick-up of orders will be at the Siam Lounge. Cash or debit/credit cards are acceptable.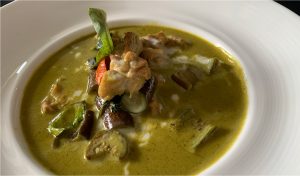 "Despite the current situation, we remain committed to delivering quality meals and food products to our loyal clients who prefer to stay at home at this time. We abide by strict hygienic standards and our takeaway meals are prepared based on the government's prescribed safety and sanitation guidelines," explains Christopher Kuch, the noble looking Resident Manager of dusitD2 and Dusit Thani Residence of Davao City.
Dusit Thani Davao accepts orders from Mondays to Saturdays. Call 272 7500 or 0927 944 4637.