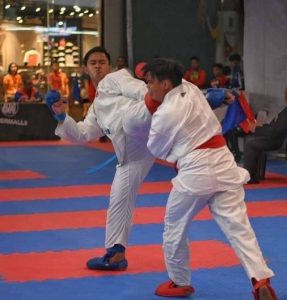 Davao City – Karate Pilipinas Sports Incorporated Region XI Director and AAK- Davao (Association for the Advancement of Karatedo) chief instructor Rommel Tan is hopeful that local boys Stephen James Cartagena and Aldren Solon may compete in the 2021 Asian Indoor Martial Arts Games (AIMAG) in Bangkok and Chonburi Province, Thailand.
'Usually the tournament is for members of the national team, mostly seniors. However, if the organizers of the tournament will have a Cadets division, this would be a good opportunity for our local boys Stephen James Cartagena and Aldren Solon to go out and compete donning the country's colors,' said Tan referring to the two 16 year old kids who started their training in AAK-Davao.
Karatedo is now an official sport in the 2021 AIMAG joining indoor athletics, cue sports, bowling, dance sport, chess, futsal, roller sports/climbing, short course swimming (25 meters), muay, juijitsu, bmx cycling, hoop takraw/sepak takraw, kurash, floorball, netball, taekwondo, e-sports and badminton.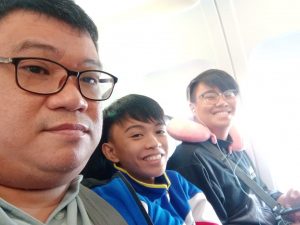 Cartagena sees action in the Cadets +70kgs while Solon fights in the -52kgs kumite divisions.
'I'm happy that karatedo was included in the Games. It only shows that karatedo is a growiing sport within the region,' he added.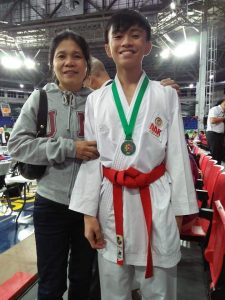 Cartagena shone bright with a golden finish during the city's campaign in last year's National Batang Pinoy Games held in Puerto Princesa, Palawan wherin Davao City placed third in the overall tally. He along with Solon also earned gold and silver medals in the recent 2nd Karate Pilipinas National Karate Championships last February in Manila at the Rizal Memorial Sports Complex that earned them a slot to the cadets national training pool.