In one conversation with a friend, we talked about the last movies we watched. I realized it was the animated film Onward, which I saw around the second week of March. The film is a sweet story of brotherhood and about how we fail to notice the people who are always there beside us on our journeys and adventures. A couple of days later, the cinemas were shut down, following stricter protocols to prevent the spread of the Coronavirus. Onward's "lesson" hit hard when a week after, lockdowns became a new normal everywhere in the world and we are forced to isolate at home, spending more time with our families.
The escape to the movie theater became a sudden impossibility and for a regular "escapist" like me, I was forced to reckon the possibility that I may not be able to do one of the things that keep me sane for the time being. As we started to quarantine ourselves, some shifting to a work-at-home status while some endangering their job security, we were left at the mercy of our devices. From online meetings to online reunions, we connected digitally and lived virtually. Online streaming also became the new normal and Netflix suddenly became a staple like our periodic trips to the grocery or market and impulsive food delivery choices.
While the entire film community continues to ponder on the question of how the current pandemic will reshape cinema, I find myself spending more time on Netflix than ever before. In a month, I was able to finish more TV series that I was able to for the entire 2019. But aside from Netflix, I also checked other online streaming sites like HBO Go, where I was able to finally watch the final season of the celebrated Game of Thrones series. I also have been checking Mubi more regularly, which mostly caters to hardcore cinephiles with its monthly-curated films. Just this week they made available their library, a treasure trove for film lovers.
With film consumption relegated to the smaller screens of our laptops and smartphones (or if you have large-screen television, good for you), the idea of coming up with "what we're watching under lockdown" series came to being. It was also spurred by the fact that some of the really good stuff on Netflix for instance get hidden under their algorithmic framework. People tune in to this "Top 10 in the Philippines" list more since it's what they see on face value. I always get the feeling that the platform also gives off this illusion of choice and unless you really know what you want to watch you will spend more time browsing through the massive selection.
As a start, here are a few of my recommendations from two months of binge-watching so far: two miniseries, a new horror series on iWant and a Thai film.
Unbelievable (Netflix). This limited series, inspired by a Pulitzer prize-winning reportage by ProPublica entitled "An Unbelievable Story of Rape", is set in motion when Marie Adler (Kaitlyn Dever), an 18-year old foster child reports a rape, and in a course of an episode pushed to retract her statement. What unravels is a web of neglect and injustice when it is found that she is only one of the victims. It veers away from the spectacle and lurid details of rape that victims are forced to recall going through the legal process and with that the show already makes a difference. It's a sensitive portrayal of rape's effects on those who endure and overcome it. Superb ensemble cast from Dever to Meritt Wever and Toni Collette who play the detectives who bring the case to a just resolution. It's also a very gripping police procedural.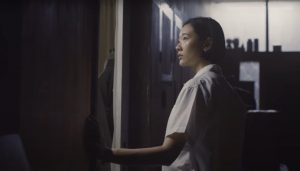 The Virtues (channel4, UK). What I hope Netflix brings more to their selection is British TV. So far, popular titles like Sherlock and the Netflix-produced The Crown and Bodyguard are there, and most recently the hilarious Derry Girls. The Virtues is a four-part miniseries created by Shane Meadows. In The Virtues, a man returns to his Irish hometown after disappearing for 40 years, uncovering a brutal past. There she meets her sister once again and struggles to reclaim a life lost. Economically told, it is a harrowing look into personal wounds that also holds a mirror to historical ones. It also features some of the best acting I've seen this year so far, from Stephen Graham who plays the lead character Joseph. Graham is astonishing to look at, commanding every scene with emotional intensity so far-reaching that we ache for him as well.
The Tapes (iWant). Top-billed by Sam Milby and Yassi Pressman, this short horror series is definitely a breath of fresh air for local programming. The story revolves around a mysterious package of videotapes sent to (Milby) who's a police officer in a fictitious town but obviously shot in Baguio. As the two cops embark on an investigation, what then immediately unravels is the disappearance of the young woman, their missing police chief (played by Ricky Davao), and a host of strange occurrences including rituals and the occult. It's creepy, under-your-skin horror, fueled by creator Dodo Dayao, whose preoccupation with the found footage motif is also found in his previous films Violator and If You Leave. A highlight for me are the episode's bookends and the apocalyptic vibe of its visuals. On the downside, the six-episode order for the series limits the exploration of the setting and expansion of themes, and watching it leaves you wanting for more.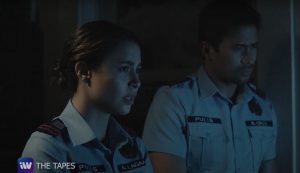 Happy Old Year (Netflix). Thai filmmaker Nawapol Thamrongrattanarit's latest film is thankfully on Netflix along with his documentary about BNK48. In Happy Old Year, Jean (Bad Genius' Chutimon Chuengcharoensukying) embarks on a house renovation project to convert the space into her office studio after coming back from Sweden for school. Doing so, she confronts a family past and a boyfriend left hanging. But the film is so much more than its "hugot" stuff. It takes a jab at the current "throwing away" trend sparked by Marie Kondo. In an age of massive consumption and commodity production, we, like Jean, are forced to answer the question: to dump or not to dump? It's deceptively simple but there's actually so much to unpack (pun not intended). It's a story also powerfully told through photographs and memorabilia. Beneath the surface, it is also about the uselessness and usefulness of nostalgia, about intergenerational divide, and about the negotiation of spaces in the age of globalized culture, which attains a nuanced meaning in the Southeast Asian experience.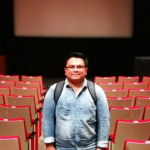 Jay is a film critic and film programmer for Pasalidahay, a film collective in Davao composed of film enthusiasts and filmmakers advocating for Filipino film appreciation.