I have been following Lorna Byrne online. This woman is popular in Europe for her workshops and talks about angels and she recently traveled to Japan before the travel bans were imposed. Most importantly, this lady claims to have seen angelic beings since she was a baby. I first read about Lorna in Jonathan Black's The Secret History of the World. She was described by Black as a modern-day mystic and has verified the authenticity of Lorna's claims through his vast research.
When I read her autobiography entitled Angels in my Hair, I was going through a very tough time and looking back, I am way more than glad to have read that book during those pitch black days of my life. Lorna's book expanded my heart to the reality of the help of the angels in our life. The imagery of her visions are so alive that you can actually imagine it for yourself. Looking at the writing style, it's not a work of an expert, but a masterpiece of a pure heart. She is dyslexic and writes her books with the help of speech to text apps on the computer
Imagine my longing when I saw that she was holding a talk at a temple in Tokyo, Japan. Looking at her Instagram post, I could only utter, "So near yet so far." Even more so, imagine how ecstatic I was when I received a reply from Pearl Byrne, Lorna's manager, saying that Lorna's would be happy to hold a conference with a Filipino community. I sent an email to her after waking up at 3:00AM with a clear thought: Send an e-mail to Lorna Byrne (it was a shoot for the moon), hoping and wishing that Lorna's team would be able to read it.
The Zoom conference happened last May 20, Wednesday. My knees were shaking, that was the first time that I would be talking with an international figure and best-selling author. When she came in, however, the jitters just disappeared and I felt like I was just talking to a friend. Lorna greeted everyone in the chatroom, she says that the conference was a sign for everyone who attended because it's usually difficult to request for an online meeting like that since she is often booked during those times. She announced that with us was the Angel Hosus, an angel whom she mentions often in her books.
Attendees came in and asked questions to her. Jonna, a mother of two, asked how Lorna calls on the angels to protect her children and loved ones. "You only have to talk to your guardian angel and tell them to ask the guardian angels to watch over your loved ones." She also says that a prayer to God charges a host of angels to grant your request.
Another question came from an attendee in Ireland who recently lost her father due to COVID, she was asking Lorna about her father. "Your father is very happy this time and he wants you to be happy with your siblings too."
Shaun from Baguio City, Philippines also asked about his father who passed on a few years back. He says that their family felt they haven't done everything to keep him alive. Lorna's voice was compassionate and said, "Your father tells you that you have done everything. And there is nothing to worry about." Shaun messaged me later that when Lorna said those words, he knew that it was his father talking.
Atty. Dinah Tolentino-Fuentes asked Lorna what is the message of the angels at this time to Filipinos. "We will get through this. But we are no longer going back to how we used to be," Lorna said. "We will come out more compassionate and caring. I have been told that Filipinos are a very strong and loving people.
I hope I don't get into trouble for saying this, but you must also pray for your leaders. Pray for them to listen to their angels and help them change. So that the corruption will be gone. I have been shown many things about your country but I am not allowed to talk about it."
Lorna also shared that if you feel that it's difficult for you to talk with your guardian angel, you can write a letter and leave somewhere for a few days. According to her, there is always help and all we need to do is to ask because we have freedom and they will not want to interfere with it.
The conversation was supposed to last for only thirty minutes but Lorna was so kind to extend it a little bit longer to accommodate the remaining questions even when it meant having to transfer to another chatroom. And for that, we are truly grateful for the opportunity.
After the conference, some attendees messaged me that it was a soulful conversation we had and that they felt assured of the help from the Heavens and that prayer no matter how little always works. We are looking forward to next time but I also hope that apart from Lorna's books, people will also be interested in helping her foundation (Seraph Foundation) for children, grow.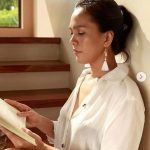 Joan Mae Soco-Bantayan is a teacher at Tuburan Institute, Inc. She is also a wife and a mother of two. For questions and comments, feel free to drop her an e-mail at joanmae1212@protonmail.com or visit her Facebook page, Joan Mae Soco.