There was a time when I collected painted eggs of ceramics for they reminded me so much of the happiness Easter eggs bring especially to children on an Easter egg hunt. I've collected a few of these egg art from Davao, as well as those I bought from my travels to China, Japan, the USA and Canada. For us Roman Catholics, Easter eggs signify Jesus' resurrection and thus, the egg is a symbol of new life and rebirth.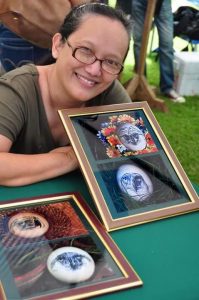 It was last March 6, 2020, to be exact, when a dear friend of so many talents, the kind and gentle architect/ballet maestra Cecile Dioquino-Hidalgo, gifted me with a piece of her amazing artwork done on an ostrich egg. An ostrich egg art is such an artistic creation which is delicate and elaborate to make that it is not for the faint of heart. It requires the right amount of experience, expertise, passion, dedication and patience for an "eggs-ellent" artwork to produce. Just like what Cecile does. This is one craft that is known to have been done for centuries. Of course, among the most famous and truly incredible ostrich egg art were those made by Karl Faberge for the Russian Imperial family during the late 19 century to the early 20th century. The precious Faberge eggs, with each costing a fortune to collect, continue to inspire many egg decorators, jewelry designers and artists to this day.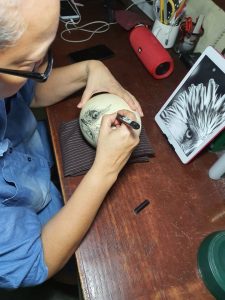 "An idea is born out of inspiration. An inspiration is born from relationships between yourself and others; as well as yourself and the environment," so says Cecile who is one person who values everything that surrounds her. Yes, from the largest backdrop and wide landscape to the minutest details of pointillism. "So her career as a construction manager of Aeon Towers, combined with her meticulous ballet classes at her I-Sayaw Dance Studio, and show directing with Musikademy have proven one thing: that she is one obsessive-compulsive person no one can argue against," reveals her admiring husband, Architect Kiko Hidalgo, who, surprisingly, can don tights and do mean pirouettes upon the supplication of his beloved wife especially during her recital presentations.
Indeed, Cecile's passion for the arts is limitless. This architect cum ballet teacher paints and draws on anything from rocks, pebbles, duck eggs, and yes, ostrich eggs. "Anything that can be inked, pastelled, and painted on I can turn into an artwork," she readily convinces you and I do envy her.
"Our dear friends Dr. Bo and Olive Puentespina, once upon a time, sold and served ostrich meat and ostrich patties which were outrageously good. Of course, if you breed ostriches, you will obviously have ostrich eggs. In one of our visits to the couple, I got hold of a broken ostrich egg shell which got us to talking about how to add value to the then ordinary ostrich egg. Dr. Bo showed me an ostrich egg with African animals drawn on it. This was the start of something new for me," narrates Cecil.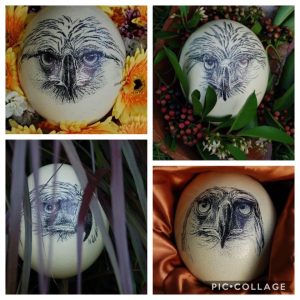 "As soon as we got home, Cecile started experimenting on which best medium could be used. Among her earliest artwork was a drawing of an ostrich head on a broken ostrich egg which was displayed at the Puentespina family's Malagos Gardens. Impressed by this, her next artworks featured the Philippine Eagle series as an ex-deal with the Puentespinas to avail of their ostrich eggs. Ostrich eggs are not cheap," informs Kiko.
Cecile has produced roughly 30 eagle heads and still counting. The Philippine Eagle is significant to her as her unica hija Noe was once the youngest Philippine Eagle volunteer at the age of six years which later on inspired her to take up veterinary medicine.
Both Kiko and Cecile are Philippine Eagle volunteers themselves. Some of her ostrich egg artwork were bought by Dr. Bo to give as gifts to friends in the USA. "It takes me a week to forever to finish an ostrich egg artwork. The last egg I was working on was started last April 20 and was finalized this May 18. I took my time doing it during the ECQ. All the ostrich eggs I have drawn on came from Malagos Gardens but the Puentespinas have run out of supply as they've sold their ostriches to Sen. Manny Pacquiao. I am in need of a new supplier right now. I am down to my last egg. Olive found two for me recently which I reserved already," Cecile tells me with the request for me to ask dear Jackie Garcia-Dizon if they have available ostrich eggs at the Crocodile Park.
"I find it difficult to part with my ostrich egg artworks. But one person bought three pieces after having seen it posted on FB about five years ago. That was it….otherwise, I have given them to family members and precious friends," laments Cecile.
Thank you, dear Cecile Dioquino-Hidalgo, for making me a recipient of your eggs-ellent artwork. I hope you do find your ostrich eggs supply. Paging Jackie Garcia-Dizon!