One day this May, Iloilo City started a fun and casual idea of bartering while the city was on lockdown. This was received by the netizens with such a warm welcome. Davao City followed suit. In just over a week, barter communities mushroomed but two major communities are being swarmed with a huge following: one is the Davao Barter Community Official and the Davao Barter Community.
The interesting idea about barter is that one maximizes available and excess resources in exchange for a necessity. These online communities trade anything from rice to plants, to Gucci bags and appliances! The admins had to prohibit liquor, PPEs, and alcohol as the barterers had begun trading these items. Others really go out of their way to shop so that they can barter an eyed item! For sure, it is the good deal that makes these people do so.
In one community, a member traded her DSLR camera in exchange of kilos of formula milk. Another barters plants for a friend who belongs to the lumad communities in exchange of rice, pots, and a used smart phone. But the most heartwarming trade happened between two women, they bartered a handful of Kamyas (Iba in vernacular) and a brand new electric fan. In a photo they posted, both are seen with their glowing faces!
The humor inside the communities rests on the trending barters. They said that the currency of barter this time are Spam and plants. More than a handful of members trade their precious items in exchange for Spam. For the life of it, I just cannot understand why Spam! Others trade their beautiful and full-grown plants in exchange of grocery items and/or rice.
But what is going on here? To me, this is an expression of the desire of the people to connect and be around each other even if only for a little while. It is true that we are not excused from the fever of consumerism. We wanted to have more and more. When COVID-19 came, we somehow woke up to a realization that the things we've been holding onto are not as necessary as we have perceived them to be. The kept things stare back at us and it's just there. With the rise of online barter communities, people are given the chance to declutter and trade their former wants to what they need.
Does it curtail consumerism? I don't think so. But the idea of spending less and letting go of excesses appeals a lot to everyone these days. Still, when bartering, one should think if it's a necessity or a want? Is it really needed? Or will it only accumulate another set of dust at home?
The first trade that I had supported my intent to stop buying shampoo in plastic bottles or sachet. My ka-barter traded her spare shampoo bars that can last up to 50 washes to pomelos worth PHP300. Meet-ups are a little bit taxing, with all the communication needed, but technology comes in handy here. I am very pleased with my first barter trade and I look forward to making it again with healthier alternatives. Sometimes I get tempted when someone posts a pair of stilettos but I always try to ask myself if it is necessary. I know I won't be needed to wear stilettos these days or even in the coming months!
It is with hope that these communities thrive even in the midst of the challenges being posted by COVID-19. Still, necessary measures and hygiene must be observed every time. An admin in a barter community called for the members to be responsible during meet-ups since we are still on the wave of the virus. This movement just goes to show that human beings have such creativity that makes us survive and thrive even during these difficult times. Hope is alive. And so we trust.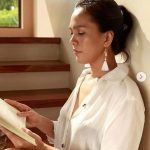 Joan Mae Soco-Bantayan is a teacher at Tuburan Institute, Inc. She is also a wife and a mother of two. For questions and comments, feel free to drop her an e-mail at joanmae1212@protonmail.com or visit her Facebook page, Joan Mae Soco.