Members with good standing and their dependents will have the priority to play first as local golf courses open its doors today, May 28.
Local courses, Rancho Palos Verdes Golf and Country Club, Apo Golf and Country Club and South Pacific Golf and Country Club gears up its new normal rules as local golfers are expected to conquer the greens after a long wait.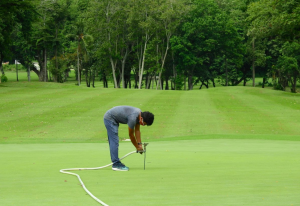 'After our meeting last Tuesday, it was agreed upon that only members and its dependents with good standing for the meantime will be accommodated for the tee time reservation,' said Rancho Palos Verdes Golf and Country Club General Manager Tommy Inigo.
Same also goes for South Pacific Golf and Country Club and at the fabled Apo Golf and Country Club which are also set to open today along with their safety new-normal protocols.
Among the discussed and approved safety protocols for the new-normal under GCQ (General Community Quarantine) were the temporarily doing away with caddies in which they will be assigned per flight acting as spotters or markers and as well tasked to repair divots and rake bunkers. The use of face masks, social distancing, avoid large gatherings on the first tee, driving range or after the rounds; ball marking, avoid handshakes and high fives, no use of lockers , one player per cart, bring your own towel/water container and the golf schedule for golfers playing per day.
Davao City was put under General Community Quarantine last May 16 however, Mayor Duterte-Carpio opted the golf courses not to operate with the fear of a possible virus spread on the sharing of carts, golf equipment and players interaction within games. Mayor Duterte-Carpio only recently approved the opening of golf courses provided they would strictly follow the safety protocols as discussed.