To date, that's the total number of food packs that Dabawenyo chef Darence Patrick Co has prepared and donated to the city's frontliners since the start of quarantine last March.
"When community quarantine began, our restaurant business was at a standstill. But I saw a different opportunity upon seeing posts on social media on how some fellow Dabawenyos and our frontliners are having difficulties in coping with the crisis," said the 24 year old chef.
Immediately, he employed his staff in preparing packed meals – usually a combination of rice with pork or chicken plus cake, or a noodle dish and bread – for those on the front line but still stringently following social distancing guidelines.
"We strictly enforce social distancing and continue to practice proper sanitation in our restaurants, Fat Cow and Asian Cow, where we prepare between 1,000 to 1,200 food packs everyday," revealed Co.
Utilizing the said restaurants, he was able to afford his kitchen team enough space to move. He also made sure that they're justly compensated for their service, and even housed them under one roof for their own safety.
But it is still no easy task for Co and his team.
"It's quite a load. Our kitchens constantly struggle with being swamped with cooking daily as well as with limited storage," he said.
The food packs are then distributed daily to the military and police forces, and to the city's medical frontliners.
"We also share some to the House of Hope (a temporary shelter for children with cancer) because in times like this, they tend to be overlooked," said Co.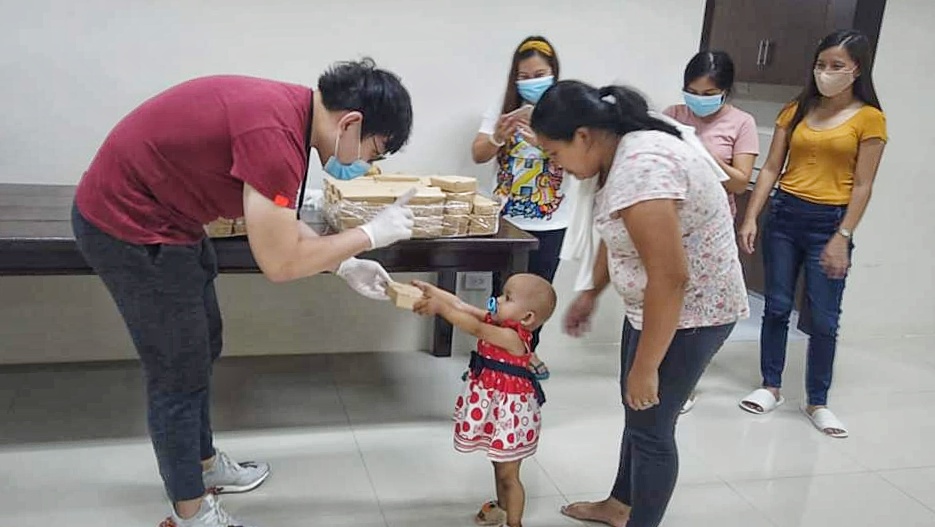 But this talented chef is not just doing things on his own. He also gets the support of private citizens and government officials, including Senator Ronald dela Rosa and Congressman Paolo Duterte, as well as civic organizations, such as AOF Foundation.
With no end in sight yet for this crisis, Co intends to carry on with his advocacy for as long as he can.
"In crisis, we need to work together and help fight COVID-19 in our own little ways, no matter how big or small your business. We can still make a difference if we put our hearts into what we're doing. For me, it has always been cooking and feeding people," shared Co.