Twenty-year-old student Kimberly Tamayo from Sasa ferries her mother to and from work. She gets to see firsthand what the city looks like without all the hustle and bustle and dust. But if you ask her, Kimberly said she prefers her old dust allergies to this silence.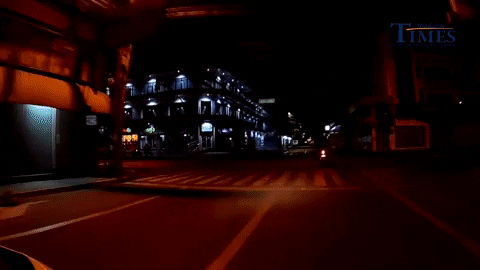 The student is among the thousands cooped up inside their homes in and around the city. 
Tamayo is a little lucky; although similarly stuck outside her routine of school and home, she gets to see what signs of life remain on the streets, away from the cabin fever of home. 
"A lot of people are dying from this," she said, uneasy. "This is changing a lot of lives." 
Eighteen-year-old Francys Penaso from Spring Village, Maa is still adjusting. 
Unable to be with her friends, Penaso finds it hard to go through every single day of quarantine, more than 50 days into quarantine. Things are different. Before all this, routine meant going to school, meeting people, going through the day, and coming home. Now, Penaso is relegated to playing mobile games and watching movies. This is how she shuts the isolation off, like many of us do.
The Enhanced Community Quarantine, an expansion of a city-wide quarantine that started in March, has had different effects on different people. Some are learning things they never thought they would ever do.
Hannah Nabajo, 20, is also stuck at home in Buhangin. She has no quarantine pass, since she does not have any important business to do outside. But Hannah is enjoying her stay at home despite being alone, having started a workout routine and several plots of eggplants and tomatoes in a small urban garden. 
It's a confusing time for post-millennials. One one hand, the rigors of schoolwork are suddenly gone. However, the social distancing is leaving some people anxious. Suddenly, despite years and years of practice, social media became the only world they know. 
There seems to be hope, as there is talk of an uncertain general community quarantine. But still, the prospect of going out again still looks bleak. Government has proposed certain restrictions on particular age groups. This means that movement will still be limited. And the government isn't pulling the age brackets out of thin air.
MindaNews recently reported that "27 out of 160 COVID-19 cases in the Davao region are senior citizens between 60 and 82 years old while 14 are under 20." 
The youngest case as of last week, is a girl barely a week old, according to the Department of Health. 
Eight out of 21 deaths were senior citizens. 
As of May 6, the DOH-Davao recorded 160 COVID-19 positives in the region as of 5 p.,m. on May 6, 142 of these in Davao City, 10 in Davao del Norte, three in Davao Oriental,  two in Davao de Oro,  two in Davao del Sur and one in Davao Occidental.
Based on these records, MindaNews noted that 119 cases or 74.37% of the 160 positives are between the ages of 20 and 59.
Thirty-seven (23.12%)  belong to the age bracket 40 to 49; 28 or 17.5% are aged 20 to 29; 27 or 16.87% are 50 to 59; and 27 or 16.87% are between 30 and 39 years old.
Before all this emptiness in the streets, its pavements were filled with activity even in the wee hours. Around 2 a.m., there were people trying to nurse hangovers after the liquor ban hours. Malls and sidewalks were filled with people. 
Now, the only ones out are employees who ride bicycles or walk to their workplaces. Chattering groups of street vendors and jeepney barkers are nowhere to be found. Malls are closed, and only a few supermarkets, pharmacies, and restaurants are open. Public spaces are suddenly quiet, as an entire planet tries to wipe out an unseen disease.
And so the post-millennials look for solace where they can find it. 
Playing mobile games and watching movies are currently helping Francys forget about the anxieties she usually goes through when she's alone. However, she claimed to still be having a hard time sleeping at night thinking about her being locked up at home for the coming days. 
"It would be great to see this being over," she said. "If it is for the better, I'd rather suffer alone than risking the lives of thousands of people."
Kimberly finds the protocol effective however, it just saddens her that the world is currently going through something really bad. 
"I just hope that people will strictly stay home if there is nothing important to do outside. This pandemic must end as early as it should be and one thing that we must do is to stay at home to avoid catching the virus". Kimberly said.
Hannah has mixed emotions about the quarantine. According to her, it is good that the government is being strict when it comes to the protocols. However, she's upset by the fact that not everyone who's disobeying the rules are given the same consequences. 
A few weeks ago, photos circulated online showing different levels of treatment of people outside their homes. Among the things that upset her was a photo of an elderly woman being handcuffed by police, as another woman in another picture claimed police let her through after some convincing.
"Sometimes, it does not make sense at all," she said, frustrated. Rules are rules. 
"Washing your hands is the easiest thing you can do. Staying at home is next. Following the rules by the government is not even that hard to do. You just have to stop considering your own wants first and you should start thinking of the risk that you are bringing not only to yourself and your family but also to a lot of people," she added.
With the 3,767,744 cases of COVID-19 around the world, 10,463 are from the Philippines standing as the 39th country with the highest number of COVID-19 cases. This is according to the latest update of the World Health Organization (WHO) last Saturday. Compared to countries like Thailand and Malaysia, the Philippines is still far from flattening the curve. Although the Philippines is getting new cases everyday, it is still somehow good that it is not as high compared to the increase of cases in other countries. 
The level of discipline that people have is out of the question. According to the World Health Organization (WHO), we already had the first Coronavirus case in the Philippines last January, but the quarantine was only implemented last March. At the moment, the only strategy is to extend the quarantine, without conducting mass testing. We are never going to bounce back from this unless there is a concrete action plan from the government. 
Considering that the Philippines is still struggling in finding solutions for the non-stop increase in the number of COVID-19 cases, all that we have to do is to abide by the given protocols and avoid the spread of fake news as much as we try to avoid the spread of the virus.
(Kay Necesito and Tobe Toral are interns from ADDU)