Work from home expert shares best practices
The COVID-19 pandemic has sent office workers into uncharted territory: work from home (WFH) setups. This unexpected change in the traditional office setting caused many employees to become befuddled about daily routines normally held in a space discrete from their dwellings.
Citing interviews from executives and associates who are normally tethered to physical offices, Bloomberg reported that the pandemic has "obliterated work-life balance" and wrote that people are "overworked, stressed, and eager to go back to the office."
The addition of parenting and housekeeping on top of daily work has caused the minimal work and life boundary to blur, the report said.
This does not always have to be the case.
Many freelancers, entrepreneurs and other remote working personnel have proven sound and efficient WFH practices that keep productivity solid and personal life intact.
Identifying challenges early on is key to the success in working at home.
The struggle is real
"You may struggle a lot to separate work from life especially now that your home is also your office. Distractions can make it difficult for you to start or stop work; this could lead to burnout or days of being unproductive. I see this with many of our new employees at Virtualahan all the time," said Ryan Gersava, founder and president of Virtualahan Inc., a tech social enterprise equips Persons with Disabilities (PWDs) and other disadvantaged people with digital skills.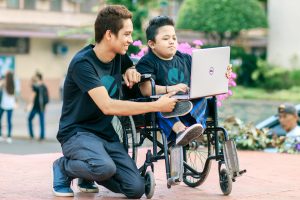 Since 2015, Ryan has been guiding and leading teams to work as remote staff to global companies that need outsourcing support. His vision on inclusivity and employment has also given him a wide range of experiences that taught the best practices for productivity no matter the space.
"Working from home requires consistency," he said. "Many people didn't have the luxury to properly transition and train for the remote work setup. This is why it can get tough to distinguish work from after hours. It is especially difficult if you have a 9 to 5 job in an environment where your brain associates productivity."
Apart from disposition, Gersava identifies other challenges: intermittent internet; roosters in the background; and the tendency to slack or mismanage time (like taking a long shower or oversleeping).
"You normally don't encounter these in a traditional office situation. These are impediments to productivity and can affect the quality of your work. It's a slippery-slope from here," he said.
Solutions
Gersava proposed a solution that may seem easier said than done for some. But that should not stop people from trying.
"Create and keep boundaries. This will help you draw the line on where work ends and personal life begins," he said. Flexibility doesn't mean pushing your body clock to the edge.
Keeping a consistent routine also works.
"It's the most effective strategy based on experience to help you train yourself and the people around you to achieve maximum productivity," he said. "You have more control over your time when you let your co-workers know when they can reach you for collaborative work.
He also suggests healthy amounts of deep breathing and time out.
"Some things are outside our circle of control (this includes the state of our country's internet). Learning how to deal with them while prioritizing your well-being can make work from home more fun and rewarding. Water your plants, or pet your dogs or cats. Anything that gives you feelings of comfort makes WFH more healthy. Chill and don't be hard on yourself. Do everything with your best ability to keep all the distractions away but be kind to yourself as well."
Working from home equals work for all
External environments contribute to the success of WFH setups.
Gersava recommended to invest in building a dedicated place for work that is quiet and in close resemblance to your office.
"Be creative. I understand it is not possible for everybody but try to physically separate your work from personal space," he said.
It also helps to design your day based on your current deliverables and deadlines.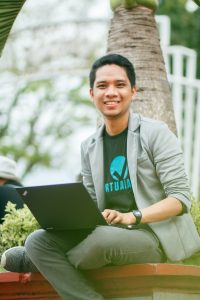 "Commit to following it. Do this as detailed as possible and put them in your calendar, your door, or your desktop. Stick with your regular company hours even if you have the flexibility not to. It will keep the trained behavior consistent for you, your workmates, and the people around you," he said.
"Practice gratitude and be reminded of your 'why.' Not everyone is enjoying the privilege of still having a job," he said.
For him, it shouldn't take a pandemic for companies to realize that we can be productive in unconventional workplaces. Many office workers are learning this now.
"The future of work is remote, flexible, and accessible. If employers embrace this more, imagine how many more jobs would be made available for people with mobility issues; for solo parents who have to look after their kids while working; and for other disadvantaged people who are being excluded in the workplace because of outdated labor systems."
Gersava is optimistic that his vision on inclusivity and employment will carry on. "I hope that remote work continues to innovate and benefit more people especially in improving their quality of life," he said. "I hope that this will help in building the future of work where one is left behind."
Jesse Pizarro Boga is a writer who has keen interest in media literacy, sustainability, and sci-fi. He enjoys bacon and burpees.