In the midst of cares and alarm over the pandemic, Isang Lakas – a battle cry for all the Dabawenyos who are engaged in addressing the COVID-19 pandemic."The song invites everyone to unite, to face adversity together by doing their part without giving up. To respond to the call of our people who are affected by this calamity by making the most noble sacrifice in the face of uncertainty for the sake of our fellowmen," say Isang Lakas composer Wardy Puyod.
"Davao City Tourism Officer Generose Tecson requested the LouWorks Studios to come up with an inspirational video to complement the #StrongDavao campaign which is the tag for the anti-COVID campaign," says Rudolph Ian Alama, the man behind the theme of the video. "Lou Daniel asked me for a video concept since I was their creative consultant having done several projects with LouWorks and the city government like the MICE Campaign Video, Japan Malaya tourism road show videos and the Dabawenyo Ako campaign.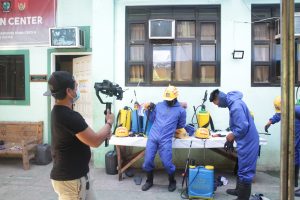 I was thinking of a music video and the composer I had in mind was my high school classmate Wardy Puyod, a businessman and a musician. He wrote a song for the SEA Games held in Manila; and during an earthquake fundraising, he rewrote the lyrics to fit into the campaign. So I asked him if we can collaborate on the song which will be used for the video," Alama furthers.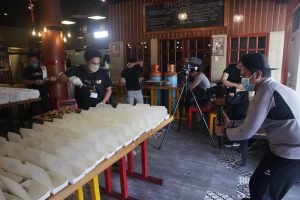 Indeed, Isang Lakas is a manifest of a creative collaboration among Dabawenyo artists. With the help of Maree Contaoi-Cayas who asked her fellow musician friends to pitch in for the project, music artists Popong Landero, Maan Chua, Gauss Obenza, Jeremy Sarmiento, Juliet Bahala, Kent Charcos, and local hip-hop community represent Emcee Pong One sang Isang Lakas. Musical arrangement was done by Paolo Sisi, with Alama and Puyod rewriting the song to fit the theme.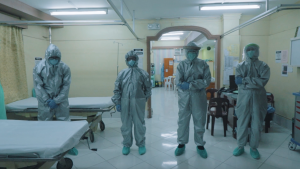 The music video shows a united front in battling COVID-19 to tell the story of a city acting as one and resilient. Different initiatives which can be found in the City were featured, from the government, the locals, the frontliners, and the volunteers. The video also shows Patrick Co producing the food packs for the frontliners, the tailors of Brgy. 23-C making PPEs, and the volunteer firefighters making face shields.
The production team also endeavored to feature Brgy. Mintal and their social distancing measures. The videos of frontliners in Southern Philippines Medical Center were provided by the Department of Health. In the evenings, the documentation of the Armed Forces of the Philippines/ Philippine National Police at work was done. The Isang Lakas video collaboration was done in a swift two weeks.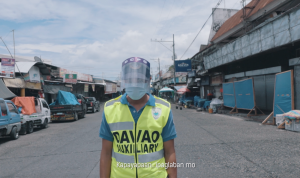 It is with bright thoughts and hope that we strive along these lines of solidarity and cooperation as COVID-19 will hopefully reveal the true and brave in us, Dabawenyos.