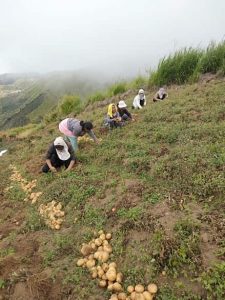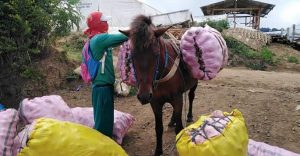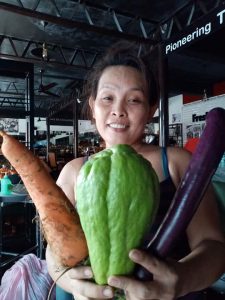 Coffee is considered a staple commodity by many, and an important "must have" breakfast item for most of us. But in this period of quarantine, vegetables make up for most of our healthy diet to maintain a good immune system.
Recently, we bought our freshly harvested vegetables from the coffee farmers of Sitio Balutakay, Davao del Sur, who harvested potatoes, tomatoes, eggplants, carrots, green onions, carrots and lots more, and for prices much lower than the supermarkets. Marivic Dubria's team is the BACOFA Coop.
Marivic Dubria, prize winning coffee grower of Mt. Apo Arabica coffee gathered her team of farmers to harvest sack loads of coffee beans, potatoes and other vegetables, load them on horses, to bring them to FROG Kaffee in Davao City. The coffee beans are bought by Marcus and Gina, of FROG KAFFEE to be ground and packed for the customers who have been patronizing their coffee shop.
Because of the fertile, volcanic soil in the hills surrounding Mt. Apo, the nutritious, organic vegetables grow healthy.
Marivic Dubria and her team of coffee farmers won the 2019 Philippine Coffee Competition for Robusta and Arabica varieties, participated in by seventy-eight competitors nationwide. The Balutakay Coffee Farmers Association from Davao del Sur won the Championship in the Arabica Coffee category.
Gina Esperanza Ellorango, CEO/Chairperson of FROG Kaffee has an ample supply of various fresh vegetables and Robusta and Arabica Coffee these days, we would like to offer our help to those who wish to buy these items, and therefore would like to share her contact numbers with our readers: (082) 224-4044/ (63) 997-668-9506 – TM /(63) 933-054-6522 – SUN.
Gina also bakes Herb Bread, something we have learned to love, which she also sells to friends.
Marivic Dubria, the Champion Coffee producer from Sitio Balutakay in Davao del Sur was invited to Boston, USA for winning the championship in the nationwide coffee competition.
Photo credits: Gina Esperanza Ellorango