COVID-19 has not done anything good to humans. According to the World Health Organization, the virus has claimed 187, 847 human lives as of April 25, 2020. However, lockdowns and community quarantines apparently favor the environment. Significant slowdown in economic activity has led to various environmental impacts.
"We are starting to look at these in very early stages. At the forefront of this is the reduction in transportation, which has temporarily reduced aerosols and other greenhouse gases in the atmosphere", said Jerry K. Canete, a Filipino biologist who works for the Global Green Growth Institute, a treaty-based international environmental organization headquartered in Seoul, South Korea.
According to Canete in an interview via Instagram, the shutting down of industries, transport networks and businesses has brought about a sudden drop in carbon emissions.
"Compared to the same period last year, levels of pollution have been observed to reduce by nearly 50% because of measures to contain the virus. However, scientists are still collecting enough data to assess the impact," he added.
Jakarta, Indonesia also saw an improvement of air quality since the city ordered physical distancing, suspension of commercial operations and limited public transportation since March 23. According to Indonesian travel writer Leslie Yap, their country's environment agency has recorded a considerable reduction of inhalable pollutant particles.
"it feels strange that we are inhaling fresh, clean air right now in urban Jakarta," he said.
Very recently, Metro Manila, considered one of most polluted global cities by AirVisual World Air Quality Report, has also seen unimpeded views of the Sierra Madre mountain range, something that's not seen in decades due to the metro's notoriously contaminated air.
The Department of Environment and Natural Resources reported in its website a drastic drop in air pollution levels following the imposition of enhanced community quarantine. Not too long ago, concentrations of tiny particulate matter in Metro Manila has been recorded to have exceeded the World Health Organization's safety limit.
"The temporary restraint of air and car travel has definitely lead to cleaner air. The challenge for us is how are we going to sustain this," said Taguig-based restaurateur Jon Cimafranca in an interview via Facebook Messenger.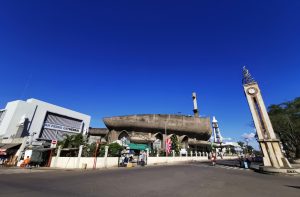 Sta Cruz, Davao del Sur municipal tourism officer Julius Paner has also noticed some positive changes in his neck of the woods.
"In a span of two weeks, two different species of pawikans in Darong and Astorga were recorded to have laid eggs. Hawksbill Turtle and Loggerhead Sea Turtle, both endangered species. Perhaps, with lesser human activities allowed them to breed confidently," he said.
Being a birder, he also overserved new bird species present in their area. "We can't attribute it yet to the ECQ but again, with less people outside their homes has allowed more migratory birds to stay longer because they don't feel threatened," he added.
Indeed, stay-at-home orders of the government along with other consequences of COVID-19 have presented us with unique opportunities, especially for the environment.
But how are we going to manage it after the quarantine, when industries start again to operate? For now, the good news is still anecdotal since data regarding planetary response in this changed situation are still being gathered. Experts suggest that we just need to continue to practice habits that take care of our environment if we really want genuine change in post-quarantine.