For some people, they find opportunities in the most challenging and trying moments of their lives. In adversity, they discover the potential to transform themselves for the better.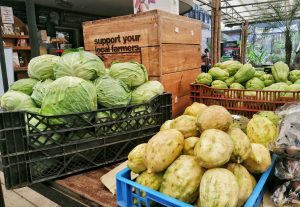 In this COVID-19 crisis, where everyone is obliged to stay home, tourism is one of the industries badly affected for obvious reasons. Hotels, tours and resorts were forced to shutdown, including Malagos Garden Resort in Davao City.
"When the quarantine started, we had to immediately close our doors to the public. Due to the nature of the business we couldn't work from home," said Charisse Puentespina, the resort's managing director.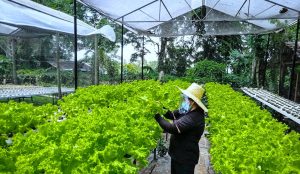 With their entire team out of work, except for a few who had to look after the animals and the gardens, they had to come up with ways to how to support them
"With our restaurants closed, with no guests to accomodate, we had surplus of our own produce," she said.
That provided them the initial spark to get a venture going.
They immediately transported their produce from Malagos to their garden and office in Agdao and began a simple online store employing their resort team including their company drivers who served as the delivery team.
Their new initiative garnered the support of their sister companies, Malagos Chocolate, Malagos Farmhouse Cheese, Puentespina Farms, and Davao Thermo Biotech.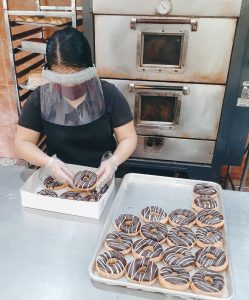 Soon thereafter, they were able to sell a wide variety of vegatables including their hydroponic vegetables, such as lettuce, as well as French Beans, Cherry Tomatoes, Avocado, Papaya, Bananas, American Lemon, Calamansi among others.
"They are all natural and sustainably-grown vegetables. We onlt use organic fertilizer of Davao Thermo Biotech," Puentespina divulged.
Besides vegatables grown in their farm in Malagos and Carmen in Baguio District, they are also helping farmers from Bansalan, Davao del Sur in selling their produce, such as cabbage, pechay, and carrots.
Apart from vegetables, they also sell fresh fruits, meat and fish selections. They also have dairy products, such free-range eggs, pasteurized goat's milk, and artisanal cheese from Malagos Farmhouse.
"We also have our award-winning, single-origin, proudly made from tree-to-bar, Malagos Chocolates," she said.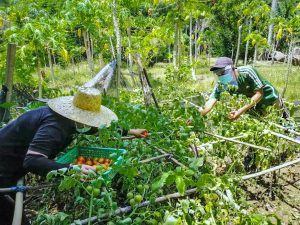 In addition, they also vend baked products, like oatmeal cookies with cocoa nibs, chocolate crinkles, doughnuts, and freshly-baked rolls and leaf bread.
"We are practically bringing Malagos to peoples' homes," said Puentespina.
The unexpected birth of Malagos Homegrown Produce also allowed their own frontliners (employees and farmers) to "translate their energies into providing healthy choices for locals, " who need not leave their homes to procure their daily provision.
Since the start of their new business, they have been receiving rave reviews on their Facebook page (malagoshomegrownproduce) regarding the quality and variety of products and produce along with their delivery service and online customer support.
"Given that we are very new in the online business, we are still continuing to learn how we can provide better service and products to the community," she said.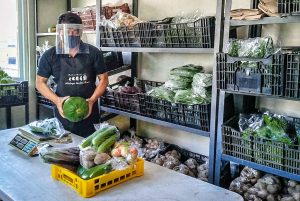 Asked if they intend to continue their new business beyond the quarantine period, Puentespina said that" SMEs need to be flexible and be able to adjust to the current situation".
"We have to be constantly on the look out for opportunites and changing things up every once in a while," she urged.
Malagos Homegrown Produce is currently in talks wirh grocery shops and allied businesses for partnerships. Currently, Shell Select carries their frozen products in their outlets.
"It is in times, like this, that we realize the compelling value of agriculture and local farming. When people buy local and organic products, they're not just helping SMEs, such as our business, but also local farmers and the local economy. More than ever, we feel the genuine relevance of supporting each other as one community, " Puentespina added.
Their farm products are also showcased in their official website malagoshomegrownproduce.com.