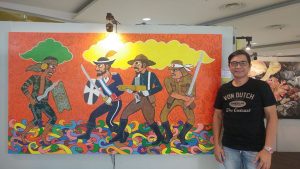 The Davao art scene is growing rapidly as fast as the city's development. This is evidenced by the increasing number of art exhibits by more and more artists coming out from their woodworks and one of the most prolific Davao artists that regularly exhibits is Alex Alagon also known among his peers as the Artist ng Masa. Alex became a full time professional artist way back in late 2013 and before that he was into many businesses though not related to creative arts. He was a banker, a businessman, a Barangay Councilor and a tri-media personality in RPN 9, DXKT and a local newspaper contributor.
It was the strong pull of his hidden talent in the arts that ultimately made him decide to leave everything that he has been doing for many years and focus on the one thing that he said gives him genuine fulfillment, the arts. According to Alex he first drew at an early age of six where he fills all his notebooks with drawings until high school where he got his formal art education for two years with drafting subjects as his elective. But things don't go according to his plan to study fine arts in college because there was still no Fine Arts school in Davao City in the early 80s. He ended up finishing Commerce major in Accounting as this was the wish of his parents. Right after finishing college he was fortunate to land a job in a bank until 1997 where he tried to make his chance in doing his own business and the rest is history.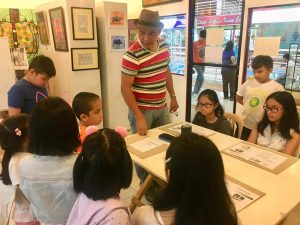 According to Alex he treats art just like his past businesses where you got a product (painting) to sell. He said, his first three years in the arts as a fulltime career was the most critical part because this is where you are still unknown in the industry thus you don't have many clients that will buy your works which means no sales, no income, no money to pay the bills! But Alex said that he was prepared for this prior to sulking himself in the art world. Alex has already a passive income from their boarding house rentals which means he still gets some income to sustain the basic needs of his family even when there is no sales from his artworks.
Seven years have passed and according to Alex his art business has become steady as he's got regular sales especially when he was able to establish his own art gallery together with his wife Sabel the Bintana Art Gallery. Here they do not only sell Alex Alagon artworks but also other local artists too through their art exhibits all around the City. To add to their income Alex also conducts art workshops to kids and adults where he introduced Party Painting.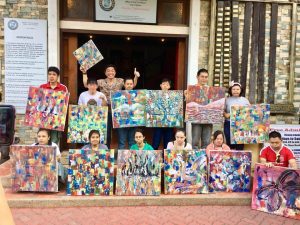 Alex is also passionate in sharing his talents together with his art group the United Durian Artists by doing free art workshops in the grassroots community especially to the less fortunate young people. Through this noble activity Alex received an award from the LGU of Davao City in 2018 in its annual Pasidungog Garbo Sa Davao. His gift in teaching arts allowed Alex to be part of a contingent together with the DS Foundation for the Differently Abled to represent the Philippines in the 2019 Asia Pacific Accessible Art Festival in Macau, China. To date, Alex has five solo exhibits in his cap and countless group exhibits.
My advice to anyone who wants to be a full time artist is to think it a hundred times, according to Alex. He added, in my experience one must have at least a fall back or other source of income (passive or a day job) while doing your art just in case no sales is coming in yet. This is most important when you have your own family to feed and you are the only source of income. He continued his advice saying one must not only be good in his/her technical skills in art making but must also learn the important skills in selling unless he opt to sell it thru an art gallery in which he/she loses a big chunk of the profit. Lastly, he said if anyone will be serious in taking care of his/her art, his/her art will also be serious in taking care of him/her.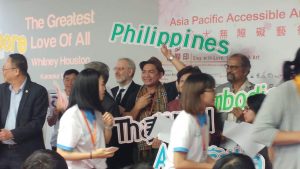 You can also visit Alex blog at alexalagon.art.blog