Before the COVID-19 lockdown was imposed, my friend's teenage son approached me requesting, "Tito, I have a formal event to attend and I will be wearing my barong Tagalog. My mom asked me to borrow cufflinks from you. Honestly, I don't know what cufflinks are." So I had to explain to him that cufflinks are men's accessories used to secure the cuffs of dress shirts and barong Tagalog to make one's outfit elegant and more formal looking. The young man only reminded me of the time I had to wear my first barong Tagalog during my elementary years. I complained to my mom then that the tailor had button holes on both cuffs and forgot to sew buttons on them. My mom must have realized she had an ignorante for a son. She brushed me off telling me to borrow my dad's cufflinks. Dad lent me his medical doctors' cufflinks which had gold Caduceus symbols ( two snakes winding around a winged staff) over a pair of red ruby on a gold filled setting . That was the first pair of cufflinks I ever used in my young life then. It was only when I graduated from college that my father gifted me with a handsome pair of Mikimoto pearl cufflinks which was given to him years earlier by his favorite uncle, Dr. Elias Pamplona Dacudao whom he lovingly called Papa Elias. According to my dad, the popular and reasonably priced cufflinks during his time were from Swank, Anson and Hickok which were then sold in shops in Escolta, Manila.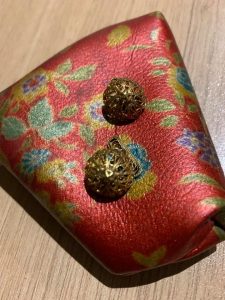 My nephew once asked me if people still use cufflinks these days. His dad at that time told him to borrow for him a barong Tagalog plus cufflinks from me as they were attending a wedding.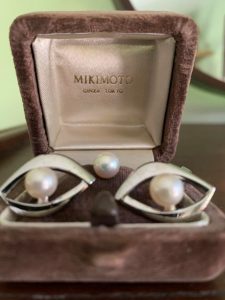 Indeed, if you are wearing a suit, tuxedo or barong Tagalog, cufflinks are one of those small touches that people would readily notice. They enliven and enhance the appearance of these formal outfits really.
Whenever I travel abroad, I try to buy for myself a nice pair of cufflinks as a souvenir.
Over the years, I have collected cufflinks in various designs which I treasure. There are also those given to me as much appreciated gifts. Consul of Hungary Baby Maceda-Montemayor gifted me with a unique pair of gold tambourine cufflinks which you'd probably think was made during the Spanish period of our Philippine history. Tita Emilia and Emil S. Sitjar gave me a pair of black tourmaline cufflinks with diamantitos as a Christmas gift a few years back. My sister Diday who lives in Vancouver presented me with cufflinks embellished with jadeite; while judo champ Sydney Sy Tancontian gave me a pair of pale jade cufflink studs as a souvenir from her trip to Russia. Oh yes, I've bought designer brand cufflinks during my trips to the USA, Canada, Japan, Korea, China, Singapore and Thailand over the years. I really felt bad that I didn't find one in my last trip to Bangladesh where I was more focused on securing fabulous textiles for my barong Mindanao. Here in the Philippines, a number of cufflinks I bought during my college days in Manila were from Rustan's which offers a varied selection.
History has it that the first cufflinks appeared in the 1600's and was popularized among the upper class by the fashionista King Charles II. It was during that period when men in general began looking for a more elegant way to hold their cuffs together. Men began using small chains that were fastened to the end of a gold or silver button and fed through the holes of the cuffs to keep them together. This English fashion then spread to France where it became popular among the nobility. It was in 1788 when the first known record of the word "cufflink" appeared. Naturally, it was the "noble" Spanish colonial rulers who wore the first cufflinks in the Philippines which pretty much looked like the tambourine cufflinks Consul Baby M. Montemayor gave me.
Cufflinks designs vary widely at present and come in various types of closing mechanisms, motifs, and materials. Naturally, there are expensive as well as reasonably priced ones available in the market for both men and women. Cufflinks never go out of style for the fashionable and discerning ones.