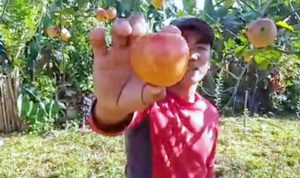 Curiosity is indeed the spark behind the spark for 28 year old Benzone Kennedy F. Sepe of Kapatagan, Davao del Sur.
"I was eating an apple when I thought of the idea of planting apple trees for a school project in 2014," he said.
That idea rewarded this Davao del Sur State College Agriculture Technology student his own fruit-bearing apple trees in their family plot.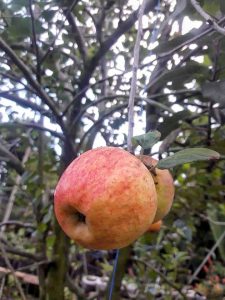 Now, apples, like all stone fruit (those with flesh or pulp enclosing a stone, such as a peach, plum, or cherry), require a specific duration of cold in order to set a good crop. However, they also grow best in full sun. According to agrifarming.in, an apple tree planted in partial sunlight will not bear as many fruits like the one planted in full sun. They grow best in well-drained loamy soil, especially in a neutral soil pH of 6.0 to 7.0.
That is why apple farms are found mostly in countries with such climatic and soil conditions, including USA, Poland and China – the latter produces 44 million tons annually. And that was where Sepe got his apple seeds from.
"From a Fuji Apple brand that I bought from the market, I extracted 3 healthy seeds and planted them in a seashell," he revealed.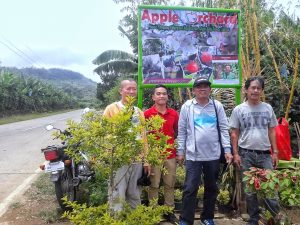 It may not be common but apples can also grow in a tropical climate but won't yield the same quality than those grown in cold countries. Others, like those planted in Baguio, only lived for a few months.
"I tried planting 3 seeds but two of the seeds died. The remaining tree has so far afforded us to harvest twice since it started bearing fruits in 2018," he revealed.
Sepe's motivation and interest in apple farming started when he read in magazines in South Korea and Japan about mango production in greenhouses.
"If they can grow our fruits, maybe we can also grow theirs," he thought.
Today, he now has more than a hundred apple trees in Kapatagan, mostly seed-grown, then marcotted, bud-grafted, and grafted.
"Two of these trees are bearing fruits. I have so far harvested 62 fruits from my trees," he revealed during our online interview. They haven't started selling them though as he is still observing the trees' development.
That, however, didn't stop people from getting curious about Sepe's agricultural phenomenon.
"I now receive guests from all over Mindanao and even as far as Leyte and Manila," he said.
Though Sepe's apple trees may be seen as a success, he still anticipates some challenges ahead.
"Kapatagan may have colder weather but apple trees require 7 to 12 degrees for dormancy. It's either that or my apples are adjusting to the climate. We still need more knowledge about growing apples. I'm still continuing to learn, " said Sepe.
In this time when food security is crucial, perhaps, one can learn a thing or two from Sepe's curious mind.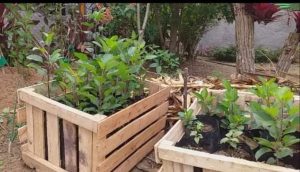 "Patience is indeed a virtue. You just need to be passionate about the things that you do for your community and for yourself. It's also about time for us to give more value to agriculture, which remains one of the least preferred college courses, and farming, the least popular profession," shared Sepe.
Aside from apples, he also has a fig tree, Meyer lime, loquats, Hass avocado, mullberries, jackfruit, guava, grapes, strawberries and dragon fruit in his humble farm in Kapatagan.
Photos courtesy of Benzone Sepe's Facebook page.