Alone we can do so little; together we can do so much. American author and political activist Helen Keller couldn't have said it better. In this time of crisis, we have seen some people rising up to the occasion. Instead of sulking in quarantine, some are making themselves productive by finding ways to ease the stress of our medical frontliners.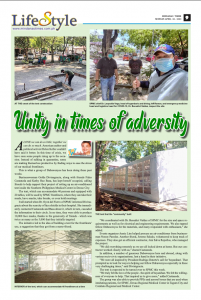 This is what a group of Dabawenyos has been doing these past weeks.
Businesswoman Golda Divinagracia, along with friends Fides Castaneda and Kathy Hao Basa, has kept herself occupied, calling friends to help support their project of setting up an air-conditioned tent inside the Southern Philippines Medical Center in Davao City.
The tent, which can accommodate 40 persons and equipped with 20 tables, will be used by SPMC frontliners, where they can take their meals, have snacks, take breaks, or even hold meetings.
It all started when Dr. Oyen del Fierro of SPMC informed Divinagracia about the scarcity of face shields in their hospital. She immediately contacted Castaneda and Basa about it, which in turn, cascaded the information to their circle. In no time, they were able to produce 10,000 face masks, thanks to the generosity of friends – which was twice as many as the 5,000 that they initially targeted.
The initiative led to the idea of building a tent for the frontliners' use, a suggestion that they got from a nurse-friend.
"We coordinated with Dr. Benedict Valdez of SPMC for the size and space requirements as well as for electrical and engineering requirements. We also tapped fellow Dabawenyos for the materials, and many responded with enthusiasm," she added.
Events organizer Annie Lim helped procure an air-conditioner from businessman Nonoy Paredes. Another friend, Jerome Saludo, volunteered to keep track of expenses. They also got an efficient contractor, Jeni Salva Repollos, who managed the project.
"We did everything remotely as we are all locked down at home. But our contractor worked closely with us," shared Castaneda.
In addition, a number of generous Dabawenyos here and abroad, along with various socio-civic organizations, lent a hand in their initiative.
"We were all inspired by President Rodrigo Duterte's call for 'bayanihan'. That prompted us to look for ways in helping our fellow Dabawenyos especially in these very challenging times," said Divinigracia.
The tent is expected to be turned over to SPMC this week.
"We truly felt the love of the people – the spirit of bayanihan. We felt the willingness of everyone to help. That inspired us to give more," added Castaneda.
The group was also able to provide PPEs and aerosol boxes that are used when intubating patients, for SPMC, Davao Regional Medical Center in Tagum City and Cotabato Regional and Medical Center.