This comment must be a bit surprising for most who are just itching to leave the confines of their homes during this time of ECQ. It could even be a controversial topic for some.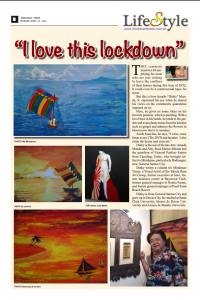 But this is how Amado "Dinky" Munda, Jr. expressed his joy when he shared his views on the community quarantine imposed on us.
Here, he gives us some ideas on his favorite pastime, which is painting. With a lot of time in his hands, he tends to his garden and even plants items from the kitchen such as ginger and admires the flowers in bloom now that it is summer.
Aside from this, he says, "I write, read, listen to my CDs, DVD and launder. I also clean the house and exercise."
Dinky is the son of the late Atty. Amado Munda and Atty. Rosa Santos-Munda and the grandson of General Paulino Santos from Camiling, Tarlac, who brought settlers to Mindanao, particularly Dadiangas, now General Santos City.
Dinky writes a column for Mindanao Times, a Visual Artist of the Tabula Rasa Art Group, former executive at Intel, former business owner at Baywood Craft, former general manager at Nenita Farms, and former general manager at Pearl Farm Beach Resort.
Dinky is from General Santos City and grew up in Davao City. He studied at Santa Clara University, Ateneo de Davao University and Ateneo de Manila University.