I have been talking with people online and a lot of them are alone or are going through deep sadness and confusion during isolation. Many of them are alone while a good number of them cannot be with their families and friends. The best I can do is to listen to them and ask them questions about their journey at this time.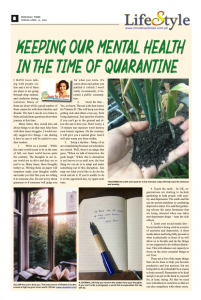 Many times, they would also ask about things to do that may help them with their inner struggles. I would usually suggest five things. I am sharing it here in case it will be useful to you, dear readers.
1. Write on a journal – While the outer world seems to be in the state of lull, our inner world moves quite the contrary. The thoughts in our inner world are so alive and they are so real to us. Many times, these thoughts bother us. Writing them on paper will somehow make your thoughts visible and make you feel like your are telling it to someone else. Do not worry about grammar or if someone will judge you for what you write. It's yours alone and unless you publish it (which I won't really recommend), it becomes a public consumption.
2. Greet the Sun – Yes, we know. The sun is the best source for Vitamin D. This will keep you from getting sick and others even say, from being depressed. Just open the window, if you can't go to the ground and allow the sun to kiss you. Don't worry, a 15-minute sun exposure won't destroy your beauty regimen. On the contrary, it will give you a natural glow. And it will also warm you from within.
3. Setup a rhythm – Many of us are complaining because our schedules are ruined. Well, there's an adage that goes, "When we talk of tomorrow, the gods laugh." While this is disruption is not known to us until now, the best thing we can do is to adapt and make something out of this disruption. Just map out what you'd like to do for the week and do it. If you're unable to do it on the appointed day, try again next time.
4. Touch the earth – In UK, organizations are starting to include gardening to help people with anxiety and depression. The earth and the sun are potent antidotes to combating depressive states. It is said that gardening release the same hormones that are being released when one takes anti-depressant drugs – sans the side effects.
5. Limit your social media diet – Social media is being cited as a source of anxieties and depression. A short media detox and being fully present to what is physically in front of us will allow us to breathe and do the things we are supposed to do without distraction. This will enhance our capacity to focus on the more essential things in our lives.
These are a few of the many things that can be done to help you become productive and less anxious, but not being able to do it shouldn't be a reason to beat yourself. Remember to be kind and give an pat on the back to yourself for, at least, trying. All that we need now is kindness to ourselves so that we can also empathize with others more.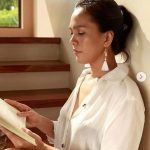 Joan Mae Soco-Bantayan is a teacher at Tuburan Institute, Inc. She is also a wife and a mother of two. For questions and comments, feel free to drop her an e-mail at joanmae1212@protonmail.com or visit her Facebook page, Joan Mae Soco.