Mayor Sara Duterte declared a period of mourning and vigilance for Davao City. The period covers April 17, 2020, to December 31, 2020.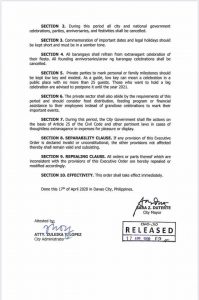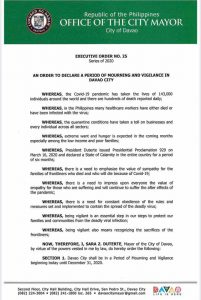 All city and national government celebrations, parties, anniversaries, and festivities shall be cancelled.
Commemoration of important dates and legal holidays should be kept short.
All barangays shall refrain from extravagant celebration of their fiesta. All founding anniversaries/Araw ng Barangay celebrations shall be cancelled.
Private parties should be lowkey with no more than 25 guests. Big celebrations are advised to be postponed until 2021.
Private sector should consider food distribution, feeding program, or financial assistance to their employees.
The City Government shall file actions in cases of thoughtless extravagance in expenses for pleasure or display.