LTC Rosa Ma. Cristina 'Ging' Manuel, a self-made woman, leads, as the Field Artillery Battalion Commander in Mawab. Last March 31, an Installation and Change of Command Ceremony was held through an online conference due to the Enhanced Community Quarantine. In an interview with her, Ging reveals her journey in this profession and how she manages life along the battlefront and the home front.
"When I was still a student, I have seen on TV interviews Major Douglas Rosete, he was a distant relative of my father and he was really famous at that time," shares LTC Ging. "(Then) when I was in elementary and in early high school, I would always watch Citizen Army Training (CAT) formations and was always amazed on how female CAT Cadette Officers would carry themselves.
During my 3rd year in high school, I applied as a CAT trainee and I became a Cadette Officer in my senior year. When I went to college, I joined the Reserve Officers' Training Corps (ROTC) instead of attending Physical Education. I was among those who lined-up for the first batch of women in the PMA. Sadly, my height was not favored during that time so I continued my education and remained a Cadette officer in ROTC."
While it is a given for this profession to be beset with challenges, LTC Ging recalls her most unforgettable hurdle and this involves her children and her work.
"In 2012, there was a flood in Davao that affected Brgy. Ma-a. I needed to help other people and rescue my own children and bring them to a safer place. That year, I just gave birth to my youngest son and contracted Leptospirosis while helping affected communities," LTC Ging confesses.
"Also, in the 2018 flood that affected Ma-a,, I was assigned in Central Mindanao, I was relieved that there were no major combat operations so I was allowed to go home and rescue my kids and help other people."
Being a mother and an officer, LTC Ging says that technically, it was never balanced for her.
"I don't bring my kids to my assigned areas. I work hard on every task at hand, and I just cope with my missed time religiously whenever I'm home," she says. "We go malling or watch movies, eat out and I buy them stuff and sometimes, we just stay home and bond together. I am just lucky enough to have my mother beside my three kids. I provide my kids primarily with their needs and some wants."
At the heart of her multifaceted life, LTC Ging thinks of herself as an ordinary citizen of Davao City who grew up serving the communities. She subscribed to the adage, "Evil will succeed when good people do nothing."
"Being a woman is just a label and it should not be a hindrance on what you desire in life. When you're passionate and you love what you do, everything becomes easy. All you need is to do good by becoming an expert in that field, work hard for it and pray harder."
When it comes to her tasks, LTC Ging has this view to share: "Committing mistakes in my field or line of work will endanger the foot soldiers and the communities. While I play the hardest. Physical well-being and relationship with other people are important aspects of being human. But to cap it all, as Commanders, we subscribe to the dictum of "Mission Accomplishment First, Welfare of our People Always." This simply manifests that we are actually the finest human beings, so to speak."
In her speech during the turn-over ceremony, she said she is guided by four core priorities of the Commander of the Army Artillery Regiment: "
"To Achieve operational and organization excellence. I will ensure to continue enhance the skills of my personnel through continues trainings and interoperability exercises with other units; judicious utilization of resources and to prepare for the AAR's plan on the rationalization on the deployment of artillery units; program personnel for training of upcoming sophisticated assets of AAR; In coordination with 10ID, to look into how 2FAB can tap the talents of the reserve force for support roles with the unit and implement AAR's security education program in coordination with G2, AAR or G2, 10ID
"To pursue an Army Modernization Program. Foremost, 2FAB support on this aspect is to prepare its personnel through continued training to prepare them for higher sophisticated equipment and assets.
"To work closely with partners and stakeholders. In coordination with 10ID, 2FAB will aggressively engage internal and external stakeholders in Davao Region in order to gain support and enhance its image to the public.
"To take care of our personnel. Since they are our important resource. Aside from the religious implementation of the Morale and Welfare Program, I will ensure to AFP Vision 2028: A World-Class Armed Forces, Source of National Pride. AFP Core Values: Honor. Service. Patriotism. institute measure to protect the health of our personnel during this COVID19 Crisis in order for them to perform their duties."
She is guided by her own core values of Worship, Service and Commitment.
"Worship. I always believe in the supreme being. Believing in God encompasses all the great personal values and attributes he manifest that will make us a holistic being worthy of pride and emulation. Service. I subscribe to the principle that, "service to humanity is the best work of life". Thus, we should remember that we are public servants – duty bearers as mandated in our constitution. In short, we must emulate what a servant-leader is – to serve and not to be served! Innovation. I am an advocate of change. It is about uncovering new and different ways to do things not usually being done.
"In connection with personal core values which I believed in, my vision in life embodies what I desire for myself for the greater Glory of God's Kingdom which is "To be a distinguished ATR and GAD Champion in various aspects of leadership; as a Tactical and Non-Tactical Field Commander, as a Staff Officer, a Civic Leader and a Mentor"
Being the second female Field Artillery Battalion Commander in the country, LTC Ging's story is truly an achievement for a woman in the Armed Forces.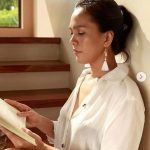 Joan Mae Soco-Bantayan is a teacher at Tuburan Institute, Inc. She is also a wife and a mother of two. For questions and comments, feel free to drop her an e-mail at joanmae1212@protonmail.com or visit her Facebook page, Joan Mae Soco.