Mindanao Times photographer Bing Gonzales shows us the city's first hours under enhanced community quarantine.
This is the quietest the city has ever been. I would know. I've been taking photographs of its streets, scenes, and people since 1992. Davao City's residents have repeatedly boasted of how "peaceful" the city is. But this one was an eerie kind of silence. It is something you wish would end, and soon.
I drove around during the first hours of the enhanced community quarantine, as the city still fights to flatten the curve.
There are police in almost every corner; the only vehicles I come across are either security vehicles, delivery motorcycles, and some vans–likely those hired by companies to ferry their employees to and from work.
Since the local government imposed several measures to help lower the incidence, its citizens too have learned to adapt. Jeepneys at some point traveled around with passengers seated one seat apart. Companies ferried their employees. Medical frontliners received a surge of support–from food, PPEs, money, among other things. At the Central 911, where the incident command is located, team members are beginning to setup makeshift sanitation misting tents funded by family, as materials are scarce. Bicycle and scooter groups are lending their iron horses to people still called to work. And so, groups like the Lend a Bike Project have begun coordinating citizen borrow-and-lend Facebook groups catering to medical frontliners.
Kindness and caution are replacing the city's vibe, and the city's residents are trying to work together to keep the city breathing.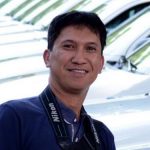 Photojournalist at Mindanao Times