Feeding our body certain types of food can help keep our immune system robust. In this time of COVID-19, it is important to take in food that will help our body combat this deadly virus.
With the diseases that we're getting from pork, cattle, and fowl meat—even from seafood, some people have gone full vegan and even advocate the lifestyle.
For Maria Victoria Evangelista, Green Earth Movement co-founder, plant-based formulator, and owner of Bec and Geri's, an all vegan restaurant in Ecoland, Davao City, her turning point was when she had cancer in 2014.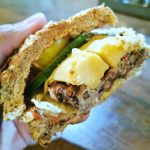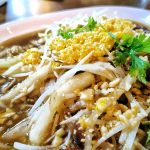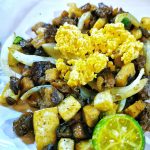 "From that experience, I have learned to fully appreciate the health benefits and maintained the lifestyle even after I survived cancer. I appreciate that veganism includes that of the community as well as the environment," she shared.
An an example, she cited that livestock farming is the biggest contributor of green house emissions and that meat production requires large amount of energy.
Her veganism lifestyle also influenced their business. At Bec and Geri's (culled from her nickname and husband, Gerardo), they practice zero waste by not using plastic straws and utensils.
"Imagine the impact it creates on the environment. So, I refuse to eat meat for this same reason," she added.
However, they have actually started to create their own vegan milk tea and gelato 10 years ago. Evangelista's creative outputs from her thorough research on vegan meals eventually led to her own take of lumpiang shanghai, chicharon bulaklak, and even buffalo wings – all vegan-approved dishes.
Today, they serve various Filipino and Asian favorites all made from vegan ingredients, such as Sisig, Sinuglaw, Rellenong Bangus, Sinigang, Burger, Pad Thai, and Pho Bo.
Amazingly, their burger tastes like beef from a patty made that's actually from banana blossoms and jackfruit. And the cheese? A culinary composite of chickpea, carrot, and potato.
Their sisig, which tastes like the real McCoy, is actually a mix of bean curd, tofu, mushroom and VegNet (their own brand of Vegan Bagnet from tapioca and soy protein).
VegNet also plays the lead role in their scrumptious Vegan Balbacua, flavored with spices and peanut butter.
The use of vegetables, fruits, herbs and spices have made Bec and Geri's dishes powerful fuel for the body.
"Citrus fruits are great immune boosters. Vitamin C helps build up your immune system and helps increase the production of white blood cells. These are key to fighting infections," said Bianca Bhani S. Maglana, MD, DPPS.
She also cited the papaya (potassium, vitamins B and C, folate), turmeric (curcumin), spinach (vitamin C, antioxidants and beta carotene), almonds (vitamin E), brocolli (vitamins A, C, and E, antioxidants, fiber), garlic (allicin), ginger (gingerol) and red bell pepper (vitamin C, beta carotene) as potent immune boosters.
Eating and getting the right nourishment is a great start to fight viruses, apart from the other healthy things we can do to protect ourselves and our family. With the right food and nutrients, surely we can build a healthy fortress using our very own body.