Davao's most stylish and ever so busy mompreneur, Marga Montemayor-Nograles, flew into town for a day last March 4 to inaugurate her latest Havaianas Shop located at the ground floor of Abreeza Mall of Davao. The fashionista looked so cool in her Kaayo ensemble with her well-pedicured feet shod in Havaianas fit-flops. Accompanying Marga to Davao is the equally fashionable, strong, and determined businesswoman and founder of Havaianas Philippines, Anne Gonzalez.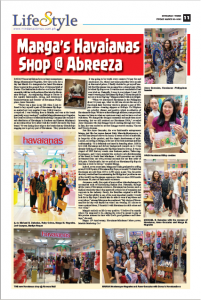 "There was a time in my life when I just refused to buy myself a pair of Havaianas flip-flops no matter how very popular it was. I felt it was too overpriced. I was working then in Manila; and was at the beach practically every weekend," confided Marga Montemayor-Nograles, the Creative Director of Martish Marketing Company (the exclusive sub-distributor of Havaianas in Southern and Eastern Mindanao) as she retraced her love affair with the world's favourite flip flops brand. "It was during those trips to the beach that my friends kept nagging me to get my pair of Havaianas. They promised me that it was going to be worth every centavo I'd pay for and much more. So, when I saw some pairs that were on sale at discounted prices, I finally decided to get myself one. My first Havaianas was an aqua-blue coloured pair of the loveliest flip flops ever.
It was the most comfortable I had ever tried on. Naturally, I wore it everywhere I went. If I wasn't wearing my Havaianas flip flops, I'd keep the pair in my car or in my big bag," Marga narrated with such delight.
"When we introduced Havaianas in the Philippines about 16 years ago, what we did was elevate the use of a functional daily footwear which is already a part of Filipino culture—wearing slippers or fit-flops. Us Filipinos are colorful, vibrant, and positive which is reflective of Havaianas fit-flops. We have endured through all these years precisely because we listen to what our customers want; and we have evolved with them. We changed the designs constantly and made them more interesting; but we still retained our Havaianas DNA," revealed Anne Gonzalez who has Ilonggo blood coursing through her veins. In fact, she was excited to see her Ilonggo-rooted cousins, Vincent and Triccie Arcenas.
Just like Anne Gonzalez, the ever fashionable entrepreneur Marga, just like her mama dearest Baby Maceda-Montemayor, is one who has always believed in luxury in terms of feel of materials, in longevity of the product, and the classic timelessness of style. Luxury, according to Marga, is the use of the best materials and fine craftsmanship. "It is definitely not based in branding alone. I fell in love with Havaianas and did my background research on it. I was already thinking of bringing the flip flops brand to Davao. It was in August of 2005 that my cousin cum business partner, Tisha Ang-Dominguez, and I were awarded the exclusive sub-distributorship of the brand in South East Mindanao. I still remember our initial investment from our own personal accounts for our first order of 200 pairs. Unbelievable, but we sold all our Havaianas flip flops in less than a week in Davao," recalled Marga.
Indeed, seven years later, Marga and Tisha graduated to selling around 10,000 pairs of Havaianas flip flops per month! To think that Havaianas are sold from 695 to 2,995 pesos a pair. Yes, the pretty duo truly worked hard in maintaining the Philippines' position as one of the world's top Havaianas consumers. More so since 2020 marks Havaianas 58 years of fashionable existence.
Awesome, really, for a pair of mere rubber chinelas/ismagol to accomplish such revolutionizing fashion feat. Naturally, through all the years of Havaianas existence, Havaianas has become such a fashion trendsetter that it has spawned a whole lot of wannabes and copycats in the industry.
Surely, the Brazilian original is still the best. "Comfort-ability is one of the most important quality I would look for in flip flops. I should also be able to wear it anywhere and everywhere," stressed Marga as she continued, "My choice of Havaianas for the day will depend on what I am wearing. If I choose to wear a printed dress, I'd match it with Havaianas in solid colors and vice versa."
Marga's outlook on life is very positive. "I believe I'm exactly where I'm supposed to be, playing the roles I'm meant to play at this precise moment in time with God's good guidance and blessings," she said.
Happy 15th Anniversary, Havaianas-Mindanao! More power, Martish Marketing Co.!