March is a Women's Month Celebration. A truly Empowered Women advocate and Icon, Honorary Consul of Mexico, Dr. Maria Lourdes Garcia Monteverde, after two years of supporting the Arkat Lawanen Marawi Icon Dolls for Peace, finally visited the Arkat Lawanen weavers community at Barangay Ilian, Maul Marantao. The Arkat Lawanen weavers, after the Marawi siege, were empowered when Dr. Maria Lourdes Monteverde had the first Soft Launching of Marawi Icon Dolls at The Royal Mandaya Hotel last October 2019 with the Ambassadors Club of Davao. At least fifteen Marawi Idps coming from Saguiaran were able to visit Davao and had the chance to present their Arkat Lawanen Marawi Icon Dolls to Hon. Mayor Sarah Duterte. As she was seriously committed to help Marawi weavers, Arkat Lawanen was able to attend "One Thread, One Color, One Nation", Davao Icon and Kadayawan 2019 and successfully support the first Modest Fashion Show "Habi sa Pagbangon ng Bagong Marawi".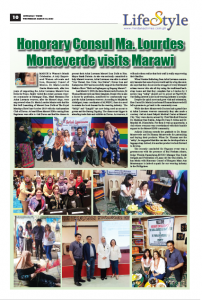 Last March 9, 2020, the three Monteverde Doctors, Dr Thomas Monteverde and their daughter, Bessie who is also a doctor by profession, manifested to continuously support the Arkat Lawanen weavers. According to Mojaheda Abdulgani, team coordinator of ALWEPC, there is a need to sustain the local demand in the weaving industry. The "Sukip" and "Langkit" are now being used as accent to gowns and the Barong Tagalog. The chances are bigger in attending trade fairs and exhibits in Davao. As weavers, it will make them realize that their craft is really empowering their families.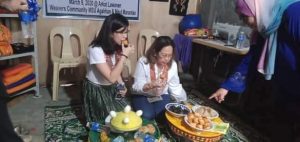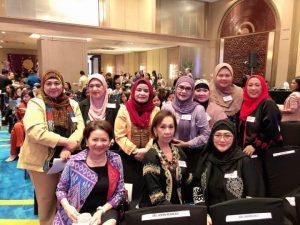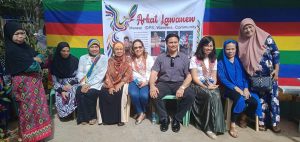 When Noraine Balindong from Arkat Lawanen community laments that some buyers would ask for a big discount, she says that they do not see the struggle of every Meranaw artisan weaver who sits all day using the traditional back-strap looms and that they complain that a 3-inches by 2 meters long "sukip" should not be priced at Php300.00. Our fading interest in the local weaving industry is a reality.
Despite the quick meet and greet visit and orientation, Hon Consul Dr. Maria Lourdes and Thomas Monteverde III left a promise to go back to the community soon.
While the three Monteverde Doctors had a grand time at Arkat Lawanen weavers community they also made a courtesy visit at Amai Pakpak Medical Center at Marawi City. They were shown around by Chief Medical Director Dr. Shalimar Sani Rakiin, Judge/Dr.Osop P. Abbas and Dr. Maydah M. Disomimba. For them it was an opportunity, a visit where everyone was overwhelmed with their humble support to the Marawi IDPS community.
Asliyah Limbona extends her gratitude to Dr. Bessy Monteverde and Dr.Thomas Monteverde for patronizing and buying their products. When Dr. Thomas saw the 'sukip', he suggested that this can also be developed into a luggage strap. Indeed, it is another product we look forward to develop.
The recently concluded Go Negosyo event was a greatsuccess with the presence of Bai Norhata Alonto, Judge Wenida Papandayan,dDXSO Manager Bae Sorah Sarigala and Federation of Lanao del Sur Bai Alabis, Jehan Mutin with Honorary Consul of Hungary Mary Ann Montemayor is indeed a spark for our weaving industry in the Philippines.