Taiwanese cuisine is one that is rich and complex, with a deep umami flavor that is worth exploring.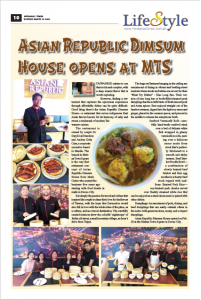 However, finding a restaurant that captures the epicurean experience through affordable dishes can
be quite difficult. Good thing there's the Asian Republic Dimsum House—a restaurant that serves
indigenous East Asian flavors known for its harmony of salty and sweet, a trademark of modern Taiwanese cuisine.
The restaurant is owned by couple Dr. Daryl Joel Dumdum and Andrea Dela Casa, a corporate executive based in Manila. The branch in Matina Town Square is the very first restaurant concept of Asian Republic Dimsum House from Mark Castro who created the business five years ago starting with food kiosks in malls in Davao City.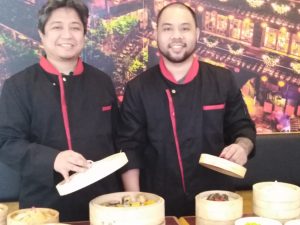 It is simply the passion for travel and culture that inspired the couple to share their love for the flavors of Taiwan, with the hope that Davaoeños would also fall in love with the whole idea of the place, as a culture, and as a travel destination. The carefully curated interiors show the colorful 'nightscape' of Jiufen old street, a small mountain village, an hour's drive from Taipei.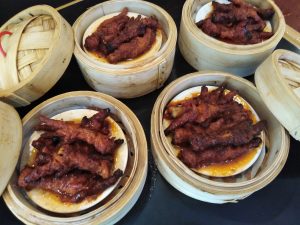 The huge red lanterns hanging in the ceiling are reminiscent of dining in vibrant and bustling street markets where stools and tables are set out for their "Must Try Dishes" – Xiao Long Bao. Their version of xiao long bao or broth-filled steamed pork dumplings has the soulful taste of fresh minced pork and Asian spices. Best enjoyed straight out of the bamboo steamer, dipped into the light soy sauce and ginger, placed in the ceramic spoon, and pierced in the middle to release the sumptuous broth.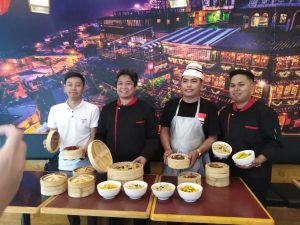 Seafood Vermicelli Roll—carefully hand-made seafood stack over a bed of delicate white fish wrapped in glassy vermicelli noodle, nesting over a delicious sauce made from stock that's perfectly thickened to a smooth and sticky texture; Beef Brisket Noodle Bowl—a combination of slowly braised beef brisket and firm egg noodles in a hearty beef stock topped with scallions. Braised Pork Rice—soy-braised pork chunks served over freshly steamed white rice that can be enjoyed as a stand-alone meal or paired with other dishes.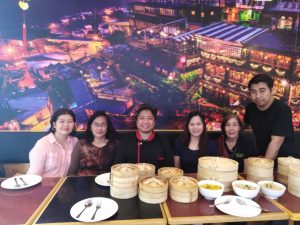 Dumplings: An assortment of pork, shrimp, and beef dumplings that can easily outrank others in the metro with generous sizes, meaty, and compact dumplings.
Asian Republic Dimsum House opened on Feb. 28 at the Matina Town Square in Davao City.