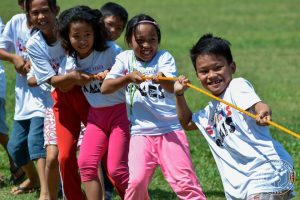 Davao City- Days before President Rodrigo D. Duterte declared a state of public health emergency amid the coronavirus disease (Covid-19), the Philippine Sports Commission (PSC) conducted the Unesco-cited Sports for Peace Children's Games with sports clinics at the Assumption College of Nabunturan recently, benefiting over 300 children and youth sports volunteers in Nabunturan, Davao de Oro recently.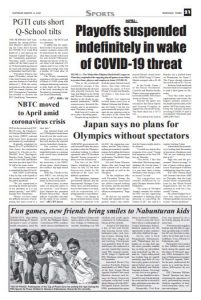 A total of 253 kids have a day of fun and friendship playing action relay, kalamansi relay, sack race, tug of peace, luksong tinik, three-ball race, dragon tail and kariling. Participants were guided by their 25 Ates and Kuyas who underwent a one-day leadership training under PSC national consultant Dr. Sergio V. Opeña and PSC Mindanao cluster head Ed Fernandez.
Seasoned Davao City coaches Pochollo Elegino (basketball), a Jr NBA Coach of the Year, former Davao Aguilas Football Club coach Melchor Anzures and Ateneo de Davao University collegiate volleyball coach Mario Mojica, all of the PSC-Philippine Sports Institute (PSI), spearheaded the sports clinics to about 35 children.
Twelve-year-old Axel Dave Alivio, a sixth grader of Central Elementary School, thanked organizers for the opportunity to play outdoors with other children his age.
Alivio, who is from Pangantusan, Nabunturan, said, "Makalingaw kay nakadula mi sa mga dula nga dili namo perminte madula kay sa balay ug eskwelahan mag basketball ug ML raman mi. Tapos maka proud kay kaduha lang mi napildi saamong mga dula (It was fun to play games we haven't played before since we only play basketball and Mobile Legends at home. I'm proud we only lost in two games)."
He was thankful to have found five new friends during the event and he is excited to play with them even after the PSC-backed activity.
Meanwhile, Ycel Kim Cruz was amazed to see a lot of kids playing all at the same time.
"First time nako magdula kauban ang lahi-lahi na mga bata ug nakita nako si Jollibbee (It's my first time to play with a lot of kids and to see Jollibbee)," Cruz, of Purok 14 Nabunturan, said.
Participants were treated to free Jollibee snacks and lunch during the games and the clinics. Sr. Myrna D. taganas, FMA Assumption College of Nabunturan president Sr. Myrna D. taganas, FMA, for her part, underscored the sports as a unifying factor where differences do not matter.
PSC Chairman William "Butch" Ramirez has been reiterating the importance of early peacemaking among children regardless of their socio-economic status, culture and religion.