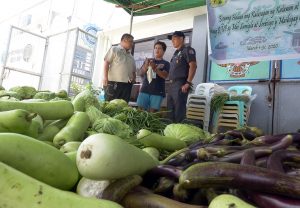 A vegetable vendor was arrested when he allegedly attempted to smuggle illegal drugs and cigarettes inside the Davao City Jail in Barangay Ma-a, Talomo District at 6:45 a.m. yesterday.
He was identified as Philip Jay Ulie Salip, 31, who hails from Magsaysay, Davao del Sur but a current resident of Quimpo Boulevard.
Lt. Col Ronald Lao, the commander of Talomo Police Station, said they received a call from personnel of Davao City Jail requesting for assistance. Reportedly, the jail staff received an intelligence report about somebody trying to sneak in illegal drugs inside the facility.
The Talomo police then coordinated with the Regional Special Operation Group, Bureau of Jail Management and Penology XI, and the Philippine Drug Enforcement Agency for the sting operation.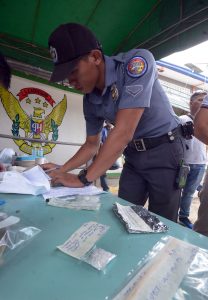 Recovered from his possession were one jumbo-size sachet containing shabu, one medium-size sachet with drugs, 13 pieces of rolled tobacco, hidden inside a sack full of eggplant, and the KIA Bongo used to transport the vegetables.
In a separate interview, Jail Insp. Edo Lobenia, the spokesperson of Bureau Of Jail Management Penology (BJMP) XI, said the search team of the Davao City Jail has intercepted the prohibited items.
Lobenia said the suspect has been delivering vegetables inside the jail for seven times already.
On Wednesday, the Bureau of Jail Management and Penology (BJMP) XI announced that visitors would not be allowed inside the facility, amid the threat of Covid-19.
"Legal practitioners, health workers, law enforcement agents and entities who are indispensable in the very welfare of all Persons Deprived of Liberty (PDL) are still allowed to enter the jail premises provided they follow hygiene protocols," the BJMP XI statement said in its Facebook page.