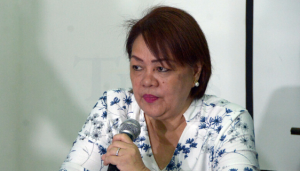 The city has prohibited local residents from going out of the city as preventive measure against the spread of COVID-19.
Mayor Sara Duterte, who placed herself under a 14-day quarantine, yesterday suspended all school classes and other public activities, including operations of night market, playgrounds and parks.
"Everyone is advised to stay at home and refrain from going to public places," Mayor Duterte said in the guideline posted in the Facebook page of City Hall yesterday. "Until after the public health emergency has been lifted."
Three guidelines and an advisory were released yesterday.
City Hall, in Guideline No. 8, imposes travel restriction but states the city is "not on a lockdown."
"All short term visitors are advised to leave Davao City immediately," the guideline states. "All travelers to Davao City are requested to postpone your visit until after the State of Public Health Emergency is lifted."
In an advisory, City Hall also "indefinitely" suspended the Roxas Night Market starting last night.
"We will find other ways for the affected night market vendors," the mayor said.
All Davao parks and playgrounds are also ordered shut down.
"Children are no longer allowed to play at playgrounds," Duterte said. "All children should be inside their house."
In Guideline No. 7, City Hall ordered that all schools from kindergarten to post-graduate studies "must cancel classes and immediately shift to online sessions and take home assignments."
It also stated that "all recognition and graduation ceremonies should be postponed."
The city government also prohibited meetings, conventions, exhibits, conferences, parties, and all other social activities.
Establishments like hotels, restaurants, and other event centers were ordered to postpone scheduled events.
The guideline also advised the public not to attend mass gatherings, prayer meetings, and other faith-based and religious gatherings.
A "work from home" plan for employees was also mandated to all the department heads of the city government. The guideline further ordered that a minimum workforce should be in placed so government work is not disrupted.
The guideline also directed city government offices not to accept visitors. "Everyone is advised to call trunkline (082) 241-1000 or email the office you need to contact."
A designated personnel will be assigned at the Almendras gym to receive and record all submissions to the city government.
In Guideline No. 6, Mayor Duterte mandated all city councilors, department heads, employees, and other workers of the city government to refrain from attending events.
"You are hereby requested to refrain from attending events of which you do not have any important role to fulfill, for example, giving of opening remarks, closing remarks, inspirational message, inconsequential attendance, and the like," the Mayor said in the guideline.
"All speeches shall be sent to the event organizer with an attached request that it is to be read by a person attending the event to be chosen by the organizer," she added.
Self-quarantine
Yesterday, Mayor Duterte voluntarily placed herself under self-quarantine as a precautionary measure against COVID-19.
City Health Office (CHO) chief Dr. Josephine Villafuerte said the mayor, despite not suffering from any flu-like symptoms, voluntarily submitted herself to self-quarantine after a meeting with a senator who encountered a confirmed COVID-19 patient.
Duterte, the city's chief health officer said, has signed up as person under monitoring (PUM) early morning yesterday.
"As a PUM, she has undergone self-quarantine for 14 days," Villafuerte said during yesterday's iSpeak media forum at the City Hall. "She has just submitted herself as PUM due to the exposure."
Reports from the City Information Office (CIO) bared that Duterte was in a lunch meeting with Sen. Sherwin Gatchalian in Manila to discuss important matters for Davao City.
After the meeting, Gatchalian signed up for self-quarantine after learning that he interacted in a Senate committee hearing in Manila a resource person who was later tested positive for COVID-19.
Villafuerte has assured the public that as of now, the mayor is "feeling fine."
Villafuerte said Mayor Duterte has to comply with the Department of Health's advisory "to stay at home with masks, and with all the precautionary measures" to protect others in case she has acquired the disease.
"(The mayor) also has to conduct social distancing and temperature monitoring twice a day. If her temperature rises or if there are any symptoms, then we have to pick her up for assessment," Villafuerte added.
The CHO chief has also urged the public to the same in case there are travel histories, close contacts or exposures to people who tested positive for COVID-19.
The CIO also said that those who have transactions or need the attention of the mayor to directly message her through her mobile number. (With Samantha Burgos)