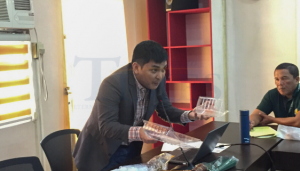 Plastic egg trays and containers have been added to the list of prohibited items under the proposed single-use plastic (SUP) regulation ordinance.
Last Thursday, egg farmers and suppliers, environmental groups, and supermarket representatives gathered for a committee hearing on the proposed Single-Use Plastics Regulation Ordinance of 2020.
Councilor Diosdado Mahipus Jr., author of the ordinance and chairman of the committee on environment and natural resources, said that plastic egg containers are more expensive compared to pulp. This was confirmed by egg farmers and Green Solutions, an organization that produces containers from recycled paper.
A representative for the egg suppliers said that a 12-eggers plastic container costs P10 compared to the P6-7 for a box made from pulp.
The egg supplier rep added that although they agree with the proposal of the councilor, how they package their products still depends on the demand of the supermarket.
Although supermarkets still use plastics in their packaging, Mahipus said that there is "no strong objection" coming from them and the fast-food chains.
There was a suggestion on making plastic containers blank so that it would be easier to recycle or put a "reusable" label. However, it is still not considered as a viable solution due to the throw-away culture of the people.
In the end, it was agreed to prohibit plastic egg containers and trays in place of pulp or recycled paper not just to save the environment, but also to create more market opportunities for local pulp producers.
Under the proposed ordinance, single-use plastics such as cups, condiment containers, lids, stirrers, cutleries, straws, pastry packaging, hand gloves, "buntings," and balloon sticks will be prohibited.
Once approved, distributors or sellers are given two months to manage their inventory. After that, they must obtain a special permit to use and a special permit to sell from the city government, and pay the regulation fee.
SUPs will be permanently banned one year after implementation.
Violators can avail the "no contest provision" where, if they voluntarily pay for the fine imposed or render community service, they would be exempted for their legal liability.
For the first offense, a violator can either pay P1,000 or render eight hours of community service in the barangay where the violation was committed; P3,000 or 16 hours of community service for the second offense; and P5,000 or 24 hours of community service for the third offense.
The SUP regulation fee, fines, and penalties will pooled as a Green Fund, which will be used as a trust fund for environmental projects such as tree planting and coastal clean-ups.
For now, the proposed ordinance is still being reviewed to make sure that it is consistent with the guidelines of the Department of Environment and Natural Resources, City Environment and Natural Resources Office, and Department of Trade and Industry.
Mahipus urged groups and individuals to coordinate. "(This is) your planet, (so) we have to take care of each other," he said.