Davao City – San Josue Steel and Mao Elite outplayed separate foes to get their fourth win in five matches in the ongoing elimination round of the Vegas Fuels Basketball Invitational tournament, last weekend at the Ladislawa Country Club gym.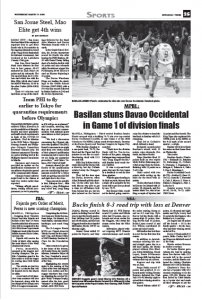 San Jose Steel handed Stark Auto Masters its first loss in four games, 69-67 anchored by Zach Ruiz's 26 points and six rebounds. The win sported them its 4-1 win-loss card which ties with the Mao Elite which also bested the MAFS Warriors, 52-46 in the other Cadets (2004-2006) division.
Their 4-1 win-loss card land them on top of the standings followed by the Stark Auto Masters and Davao Warehauz Royals with 3-1 cards.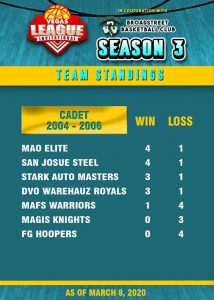 In the Grade School division, the Jovilex Sportswear scored its fourth win after beating the PHH Shakers, 60-33 with Daniel Daray falling short of a double-double with 16 points and nine rebounds while Broadstreet nipped the FG Hoopers, 66-46 for its 2-4 card on Rhysus Bajenting's 21 points.
The Davao Warehauz Kings are leading the standings in the Grade School Division (2007-2009) with a 6-0 win-loss record followed by Basket Junkies-A (5-0) and the Jovilex Sportswear.