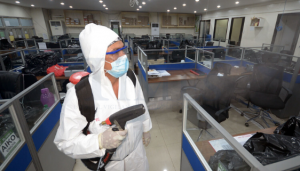 The City Government issued an updated policy on Monday against Covid-19.
The latest mandate states that all activities are suspended "until after the public health emergency is lifted or withdrawn."
Released on its official Facebook page, City Hall urged the government workers, the public and particular sectors to observe the policy.
Among the newly added items on the guidelines include the following:
For city employees. Aside from the previous order cancelling the Monday morning flag ceremony, the latest order now includes flag retreat every Friday.
Employees are instructed to clean and disinfect their offices, individual personal spaces, and areas that are frequently used by the public.
Heads of offices, meanwhile, are mandated to create a daily disinfection schedule for frequently touched surfaces inside their offices. Household cleaning agents can be used.
Offices are also required to ensure that hand sanitizers or alcohol are made available to the public before entering and leaving the offices. Employees are also encouraged to practice regular handwashing using soap and water.
All Araw ng Barangay celebrations are canceled until after the public health emergency is lifted or withdrawn. Previously, it was suspended only until July 1.
The conduct of Caravan of Government Services is also canceled.
However, the guideline said that there shall be no disruption in the delivery of basic government services in the appropriate government building and offices.
Personal follow-ups of transactions/requests of clients are prohibited. Clients are instead required to make phone or email follow-ups. Offices should ensure that clients are promptly attended to in this mode of follow-up. The City Government Trunkline Number is (082) 241 1000 which can connect to 154 units of the City Hall.
The guideline also said that heads of offices should allow online and email submissions for simple documents, which include but is not limited to invitations, simple requests, and non-essential documents.
All foreign travels of employees for leisure and vacation are hereby canceled until after the Public Health Emergency is lifted or withdrawn.
Anyone caught in violation shall be dismissed or shall be charged administratively.
Lakbay Aral visits to Davao City government offices are also postponed until after the Public Health Emergency is lifted or withdrawn.
Walk-in learning hub trips to PSSCC, Central 911, Co Su Gian Elderly Center, and other Social Services institutions are suspended until after the Public Health Emergency is lifted or withdrawn.
Meanwhile, the City Health Office is ordered to conduct misting disinfection in public places and government offices.
The CHO was also mandated to ensure that Sec. 8 of RA 11332 per Proclamation 922 "shall be strictly followed." The City Epidemiology and Surveillance Units are functional.
The guideline further stresses that all Barangay Health Workers "shall form part of the CESU and shall be provided by the CHO a list of their tasks during this health emergency."
All barangays are also mandated to activate their Barangay Health Emergency Response Teams to support the CHO and the DOH in implementing RA 11332.
The Davao City Reports contact information shall be used for public reporting of suspected cases for follow-up by CHO. Mobile: 0917 131 2333 , 0919 072 2222; Email: davaocityreports@gmail.com
Private sector. Private organizations, business establishments, and other offices are strongly encouraged to postpone non-essential mass gatherings.
All restaurants, hotels and other event centers are strongly encouraged to allow their clients to reschedule or rebook events without additional charges and penalties.
Daily infection protocols are also required for various public places with frequently touched surfaces such as banks, hotels, resorts, restaurants, hospitals, places of worship, buses, jeepneys, taxis, ride-sharing vehicles, government offices, schools, malls, theaters, airports, taxi and van terminals, ports, civil courts, fitness gyms, recreational centers, funeral parlors, internet cafes, bars, coffee shops, palengkes and all other places where people frequently gather.
Restaurant and other food vendors are mandated to use hairnets, masks, and gloves in food handling. Proper food handling protocols should at all times be observed.
Schools on the other hand, are mandated to implement distance learning and provide home assignments and worksheets, accelerate their school calendar to shorten school year and postpone recognition and graduation activities until after the public health emergency is lifted or withdrawn, (in the absence of an official advisory from the Department of Education and Commission on Higher Education).
Department of Trade and Industry. The guideline also mandates the DTI to ensure that the price freeze is implemented and that those guilty of profiteering shall be reported for cancellation of business permit and padlocked for indefinite closure, as well as the enforcement of Section 6 of RA 7581 or The Price Act and all other provisions therein, unless otherwise prohibited by the President. Information on the prices of basic commodities must be made available to the public everyday through all information channels.
DTI is also mandated to ensure that illegal acts of price manipulation shall be reported for cancellation of business permit and padlocked for indefinite closure
Department of Health. "DOH is mandated to instruct all the LGU Health Officers of Region XI with a common protocol in the implementation of the State of Public Health Emergency and RA 11332," the guideline said.
Everyone is enjoined to review and abide by the DOH advisory pertinent to their organization:
For workplace — DOLE Labor Advisory #4 Series 2020 and DOH Dept. Memo 2020-0056
For hospitals — DOH Dept. Memo 2020-0035
For airports and seaports — DOH Dept. Memo 2020-0063
For residential communities — DOH Dept. Memo 2020-0059
For schools — DOH Dept. Memo 2020-0055 and DepEd Memo 15 s. 2020
For hotels and other similar establishments — DOH Dept. Memo 24. 2020-0057
The guideline also urges the public not to panic, and should avoid crowded places, unnecessary travels outside the city.
"If you are unwell, do not go to work, do not travel. Seek medical attention immediately. Provide accurate medical history to your doctors," it said. By Samantha Burgos & Warren Elijah E. Valdez