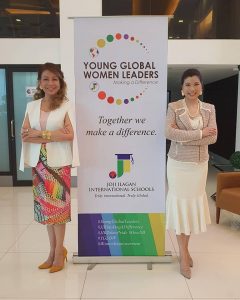 It took a year to conceptualize and Nicole Hao Bian, JIB's graceful, bright and beautiful Vice President for Education Development, confidently and successfully launched her personal advocacy through a special project which is the Young Global Leader Award (YGloW). "This is in honor of my dear mother, Purita Arsenia "Joji" Ilagan-Bian who, for me, is the epitome of an empowered woman and a strong advocate of women leadership and empowerment. She is the glowing founder of the 40- year-old JIB school which truly is no easy feat to achieve.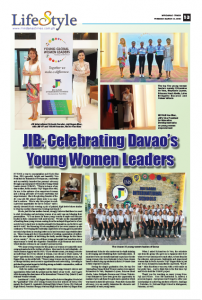 This is why this project is such a precious opportunity for me to realize," said a smartly dressed Nicole wearing a pair of pointed, high heeled shoes similar to what her mother dearest was wearing last March 7.
Nicole, just like her mother dearest, strongly believes that there is a need to start developing and nurturing women at an early age and shaping their personalities. "It is an honor for these young women to aspire and become leaders in their community with such bravery. We take on the responsibility of teaching these young women coming from the underprivileged sector of our society how to lead, how to decide rationally for themselves, and to thrive and survive well," the blooming Nicole emphasized in her sweet manner as she continued, "Developing the leadership capabilities of young girls in particular not only helps them in securing better social and economic opportunities later on. These young girls have big potentials of creating a generation of millennials who are capable of delivering the badly needed change for the future of our country." Oh yes, one of these young girls might just transform into a superwoman to break the oligarchic domination of government and society which hinders reforms in our country's present system.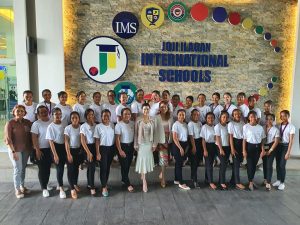 "We chose young women for this project as women are assuredly more compassionate about the welfare of others. Men tend to be individualistic. As James Emman Aggrey said in 1920, 'If you educate a man, you simply educate an individual; but if you educate a woman, you educate a whole nation,' di bala?" opined the Hon. Consul of Bangladesh, educator and fashion icon, Joji Ilagan-Bian, as she added still, "These young women can be powerful agents of change but they need access to opportunities and networking. Investing in girls has the greatest impact in building strong and stable communities, resilient and peaceful civil societies."
Both the mother and daughter believe that young women's choices and opportunities define both the present and the future of our world. And I agree while honoring the observance of the International Women's Day (March 8) and National Women's Month.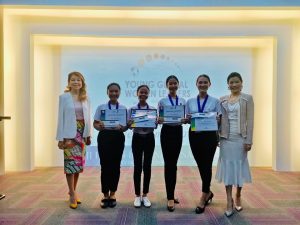 Last March 7, 2020, Joji Ilagan-Bian and her beloved daughter Nicole led the "graduation" rites of 35 young women from four schools of Davao City namely the Daniel R. Aguinaldo National High School, Davao City National High School, Francisco Bangoy National High School and the Joji Ilagan Bian International Schools who underwent in-depth training in developing and identifying their leadership skills. It must have been one transformational experience for the young women who were fortunate to have been chosen based on their being top students in their 12th Grade class in their respective schools.
During the simple graduation rites, the top five Outstanding Young Global Women Leaders were named: Krizandrea de Vera, Stephanie Layese, Princess Heart Abella, Laine Bridgette Bacaron and Coleen Virtucio. I was fortunate to have been given the opportunity by madame Joji to ask these five girls each a question which was based on their life advocacy. From their chosen life advocacy, you can readily determine the character and personality of each young leader.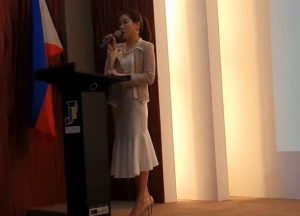 When I asked Krizandrea de Vera, the articulate one from the group who gave me a Japanese-style bow when we were introduced to each other, to best describe the educator, entrepreneur, fashionista and empowered woman that is Purita Arsenia "Joji" Ilagan-Bian in just one word, Krizandrea immediately answered, "Excellent." Miss Excellence was seen with a wide smile on her pretty face. And to think this is the first time Joji and Nicole held the YGloW project.
Thank you for touching so many young lives, Joji and Nicole. Your JIB institution is, indeed, a precious legacy. And please don't forget to offer your scholarships to achieving students of the Dr. Santiago P. Dakudao, Sr. National High School in Malagamot, Panacan, as well.
JIB: Cel