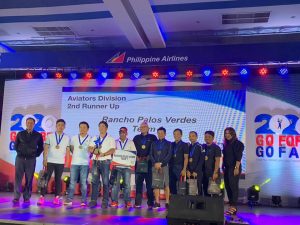 Rancho Palos Verdes Golf and Country Club teams 1 and 2 earned separate third place finishes at the close of the 73rd Philippine Airlines Interclub men's regular championships held over the weekend in Bacolod City.
Rancho Palos Verdes Golf and Country Club team 1 finished 2nd runner-up in the Aviators Class behind Manila Golf and Country Club (105-95-116-114-430) and Sherwood Hills Golf (110-107-107-101-425) which wound-up first and second, respectively played at the Marapara and Binitin golf layouts.
Rancho Palos Verdes Golf and Country Club team 1 ended their campaign with 404 points from rounds of 96-96-107 and 105. Jing Tan and EJ Casintahan emerged as the best scorers on final day scoring similar 29 points for a late charge.
Tan and Casintahan were joined by Roderick Lo, Christopher Tan, Ronald Galicia, Jean Paul Marfori, Addy Briones, Leo Yap, Jong Tan Jr. and Makmod Mending.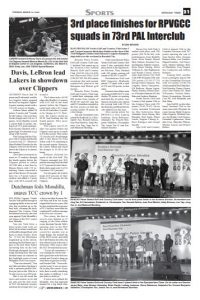 Sister team Rancho Palos Verdes Golf and Country Club team 2 also concluded third place finish in the Sportswriters Division. They finished with 342 points coming off rounds of 82-89-72 and 99.
Guinhalaran Golf and IMG Tagaytay Midlands placed 1-2 spots with a total of 376 and 342 points, in that order.
Gamirin Jerico Bajo came up strong for RPVGCC-2 with similar 30 points on opening and final day of action. Jose Simeon Gonzales also shared the scoring load with 29 on the third day and Brian Davila who added 24 on day four.
Also seeing action for RPVGCC-2 were Ludwig Ledesma, Oscar Rebosura, Alejandro So, Vincent Benjamin Valdellon, Christopher Tan, Jessie Tan Jr. and Emmanuel Sanchez.
Davao City Golf Club-A settled sixth place with 326 points (80-76-86-84) with performances from Rodolfo Luna, Alvin Tesado, Russel Mon Salazar, Rommel Lee, Ian Dagatan, Edipolo Caturan, Ryan James Guiang, Elizer Villarosa Jr., Alro Paglinawan and Randy Ceniza whiele sister team Davao City Golf Club-FBT-B landed 16th with 226 points (57-59-37-73) having Ernest Damaso, Pao Angeles, Reinz Yamyamin, Gil Bullecer, Roque Agton, Marko Fuentes, Romeo Sonico, Christian Gabucan, Pit Jun Batu and Andrew Bautista.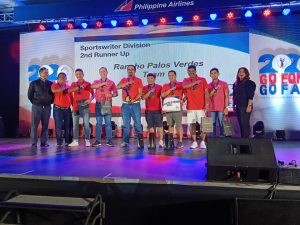 South Pacific Golf and Country Club landed 13th in the Aviators Class with 276 points (73-63-73-67). On its roster included Ferdinand Lu, Roy Echeverria, Dean Almaden, Jason Strong, Ben Bonador, Paul Ancla, Albert Ancla, Eugene Chiong Jr., Rico Rebigan and Joseph Encabo.
Apo Golf and Country Club-A placed 12th in the Founders Division with 247 points sporting the cast of Juan Karlos Alba, Enrique Romero-Salas, Leo Fusilero, Miguel Fusilero, Joel Yamyamin, Marlon Tabanao, Robert Bandolon, Fraz Pasquil, Soc Cadayona and Jeffrey Ramirez.
Lanang Golf, another local contingent placed 8th in the Friendship Division with 213 points (73-64-76) which paraded Paul Dakudao, Ned Sanchez, Danny Gotera, Jose Carlo Palma Gil, Mark Villorente, Norben Mata, Henry Evangelista, Ricardo Cruz III, Luis Balajadia and Bok Mata.
Apo Golf-B, on the other hand, finished 12th in the same class with 198 points. Its roster having Mark Oropeza, John Oropeza, Wilfredo Junsay, Jay Molde, Carlo Senase, Fernando Ugdoracion, Verne dela Cruz, Mayolito Pillerin, Marlon Aranas and Hilario Baluso.