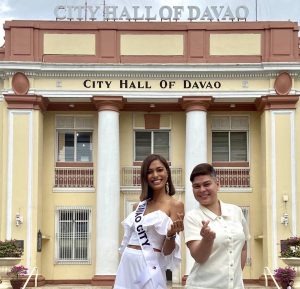 On January 30, 2020, Davao City Mayor Inday Sara Z. Duterte received a very unusual request for an appointment to see her from a young woman, who is also nicknamed "Inday." What was unusual was not the request for an appointment, but the reason why this Inday wanted to talk to the mayor personally.
Alaiza Flor "Inday" Malinao, 26, who describes herself as an "international model and millennial farmer," outlined the following talking points in her letter to Mayor Inday:
"I want to create a conversation on how we can support our local farmers and promote farming to the younger generation. I come from a family of small scale copra farmers. I am hoping to create a fun narrative about farming as I see its potential for wealth generation as well as opportunities for food security," she writes.
That is how she defines her identity as a millennial farmer.
As for the international model one, Malinao explains: "As a model, I have worked with a lot of international brands in and out of the Philippines, I want to pay forward all the blessings that were given to me by promoting social enterprises that provide livelihood for our indigenous women, housewives, and young people in Mindanao by wearing and showcasing their products and speak about our local artisans on my social media platforms."
As a Davaoeña, she told the mayor that "I want to promote Davao City's rich cultural heritage by sharing the stories of our 11 indigenous tribes and our local farms that produce the best durian and the best chocolates in the world."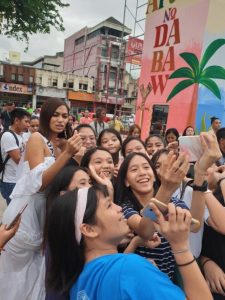 But what probably captured the attention of Mayor Inday was this final talking point: "I want to uplift the image of an 'Inday' and the probinsyanos who are always looked down upon by those from the capital region. I want to show that we are resilient, hardworking, and, at the same time, capable of looking out for our loved ones. I want every child to look at me and see that a person who grew up in a small farm is capable of reaching her wildest dreams."
One would think reading Malinao's letter that no millennial model now really talks like that, right? She probably had some ghost writer draft the letter for her. But one would be mistaken. Because she talks exactly like that in person and more animatedly and passionately, shifting effortlessly and fluently in three languages — in English, Tagalog, and Bisaya.
Needless to say, she got her audience with the most famous Inday of Davao City. And their chemistry was off the charts.
When I asked her to talk about their first meeting, Malinao blushed and gushed. "I feel like may girl crush na jud ko, 'te," she excitedly told me, speaking in that trademark mixed languages Davaoeños do.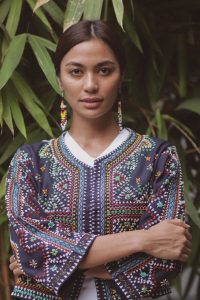 "I was observing her. Her image is someone strict, someone you cannot step on, someone brave, empowered. But after my short interaction with her, I cannot help but feel inspired. She is the perfect representation of an Inday — sweet but very strong; soft but don't mess with her because she can protect herself and do anything for her people," Malinao, clearly starstruck, shared.
The two Indays quickly bonded over their shared advocacy of supporting Davao's indigenous tribes and farmers. Mayor Inday found her perfect ambassador and spokesperson to promote causes close to her heart while Malinao found her inspiration and role model in the feisty mayor.
To celebrate their partnership, Mayor Inday took Malinao outside her office to meet with ordinary Davaoeños while they have an impromptu mini photo shoot with the very photogenic Davao City Hall, a historical landmark being the oldest building in the city, as their background.
Malinao later learned that her idol, Mayor Inday, had hopes of becoming a model while she was in her teens. In fact, now, the mayor is a sought after product endorser. So they have that in common, too.
"She also likes adventures and she's tomboyish like me," Malinao added happily.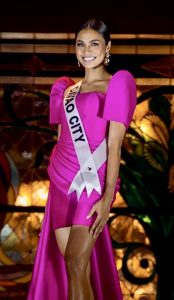 These two empowered Indays have been nurtured by a city that is home to so many world-famous feminist women leaders who are as diverse as Davao's flora and fauna. They were shaped by a culture that recognizes women as equal partners of men in peace and development. That principle is enshrined in the city's landmark piece of legislation, the Women Development Code, passed in 1997, ahead than any kind of legislation in the national government or any other local government unit in the country.
Davao City's only Galing Pook Award, considered the Oscar awards for excellence in local governance, awarded in 2004, is a recognition of its trailblazing policies and programs on women empowerment and gender equality. And this was during the leadership of then Mayor Rodrigo R. Duterte, now the 16th President of the Philippines.
President Duterte, criticized by some sectors as "sexist," would be the first to admit that the credit rightfully belongs to the strong women's movement in Davao City, and not him. As Davao's women leaders would always argue, "that's how you know that your gender program is outstanding and a product of a strong grassroots movement because even if your mayor is not yet gender sensitive, the policy is clear and institutionalized that it gets implemented despite its government leaders."
Malinao, who earned her bachelor's degree in Psychology on a basketball varsity scholarship from San Pedro College, describes an empowered woman as "someone who is unapologetic about expressing herself; she is self-aware and knows her imperfections but despite them, she continues to persevere and work hard for great things she can share to better the lives of the people around her. An empowered woman is a leader and a critical thinker."
She is practically describing a typical Davaoeña. And these very traits are the ones that endeared Mayor Inday to many of her constituents. She may be the President's daughter, but Davaoeños know she got her strength and grace from her mother, Elizabeth, a cancer survivor and single parent, and her late grandmother, Nanay Soling Duterte, who is one of the pillars of Davao's women's movement.
Malinao is very proud of her mother, Florita, who made it her full-time job to be a farmer while raising three children, one son with a developmental disability. Her father, Alvin, is a firefighter, and serves as the current Officer-in-Charge of the Padada Firestation in Davao del Sur. All of the Malinao children have embraced farming as a vocation.
Speaking like a true millennial farmer, she said: "We live a very simple life in our farm. We're a very ordinary family but we make sure that whoever visits our farm will bring home with them whatever we have harvested, be it banana, pomelo, or even a duck!"
The avid Filipino fans of beauty pageants are already familiar with Malinao's journey as a beauty queen. She first became known as Davao City's representative to Century Tuna Superbods 2014, where she was first runner-up. Jonas Gaffud, known as a "queenmaker" who trained several successful beauty queens, saw Malinao's potential and trained her under Aces and Queens. She later joined Binibining Pilipinas in 2015 and was one of the top 15 finalists. She admits she was "too young" then and lacked the mental and psychological preparation to compete on that level.
As her modeling career flourished, she developed the confidence to represent the Philippines in Asia's Next Top Model in 2016. She was the fourth one to go home, not because she was not performing well, but because she found the environment in the competition "very toxic." If you read the Wikipedia entry for that season, "quit" was the description beside Malinao's name.
"I don't like women being portrayed as petty and being manipulated to pit against each other for good reality TV entertainment. I left the competition because I did not want to get the title at the expense of my mental health," she explained.
Now, four years later, she feels she is more prepared to take her shot as the Philippines' next Miss Universe. But only if she can be on stage as a proud representative of her beloved Davao City.
She may be older and wiser, but Malinao's vision is still as clear as her family name. "I want to be Miss Universe because I want a bigger platform to talk to the younger generation about the importance of being nourished by food produced through sustainable farming," she proudly declares.
The beauty title is just a means to an end. The end being fulfilling her dream of being a credible voice for the small farmers of the world and to shift the new generation's thinking of how they produce and consume food.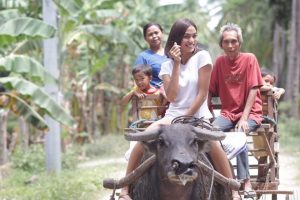 That is why she's delighted to find out that Davao City is leading the country's Food Revolution. In 2012, Mayor Inday forged a partnership with the Mothers for Peace to promote access to affordable healthy food in schools and communities in the city. The program links small local farmers who produce organic fruits and vegetables and local women social entrepreneurs who make healthy meals and snacks to schools. Healthy food carts were distributed to barangay women as a means of livelihood.
Mothers for Peace is a grassroots movement of women in Mindanao led by another Inday, Irene Morada-Santiago and Miss Universe 1973 Margie Moran-Floirendo. They are creating "gardens for peace" in urban spaces, encouraging women to grow their own food, and getting kids to eat healthy through creative and fun activities like making gardening and cooking fun adventures.
"I really love living in Davao because of the good and healthy lifestyle we have. We may be considered highly urbanized but we have easy access to organic farms and nature. Our air, water, and food are all clean. Our nature and culture so diverse, which makes for a healthy environment," Malinao said as she hopes to follow in the footsteps of our very own Margie Moran, who is a strong advocate of sustainable food, environmental protection, and cultural diversity.
Listening to Malinao talk passionately about these things affirms one's pride of being born and raised in Davao City. It really is the most livable city in the Philippines. "Life is here," as our city's slogan said. It also proves just how important women's activism and leadership are in nurturing girls and young women to believe in themselves and to find the courage to be who they want to be, proudly and unapologetically.
These two Indays show us that Davaoeñas want to be mayors and beauty queens for basically the same reason. They have a strong voice and they want to speak about things they believe in and do great work for people they care about.