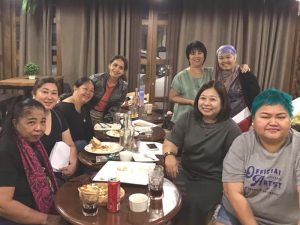 "Women are relational beings. We thrive in the complexities of human emotion and interaction. It is this desire for relationships and a sense of belonging that led to the birthing of the women artist group, Bai Hinang. It is an artist group that seeks to provide an avenue for women artists to exhibit their works and to have a creative community that creates together and grows together as artists," Amanda Echevarria said.
Bai is an indigenous word that means woman while Hinang is also an indigenous Dabawenyo verb which connotes "create." Hinang may also mean "work" or "build." BaiHinang may also simply mean "made by women."
Echevarria said, "the group's objectives may coincide with the meaning of its name: WOMEN who CREATE, WOMEN who WORK together for a common aspiration, WOMEN who BUILD bonds of friendship, which may lead to opportunities for them to grow individually and as a group."
"BaiHinang wants to be where Art and the Artists thrive. Where art works are given value. Where Art is considered an undertaking that can fill not only the eyes with beauty, the mind with values, and the soul with positive energies, but also -the artists' pockets with decent earnings."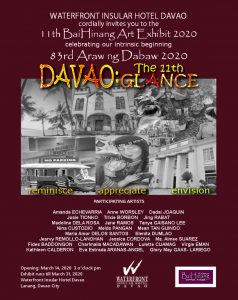 "These artists use different media and styles. Each represents different potential and possibilities. Bai Hinang artists come from different walks of life and age groups. There are some who are already established in the art world while there are those who are still beginning their artistic journey. Despite these differences, these women come together to find community and support in each other," she added.
The works on exhibit are created by Amanda Echevarria, Anne Worsley, Charlimaila Macadawan, Dadai Joaquin, Elenita Dumlao, Eva Estrada Aranas-Angel, Fides Baddongon, Glory May Gaas-Lariego, Imelda Pangan, Jane Ramos, Jearvy Remollo Lanohan, Jessica Cordova, Jing Rabat, Josie Tionko, Kathleen Calderon, Lulette Cuamag, Ma. Aimee Suarez, Madoline dela Rosa, Maria Amor delos Santos, Mean Tan Guinoo, Nina Custodio, Tanya Gaisano Lee, Trixie Borbon, and Virgie Eman.
BaiHinang 11th Group Exhibition 2020
Davao: The 11th Glance
Waterfront Insular Hotel Lobby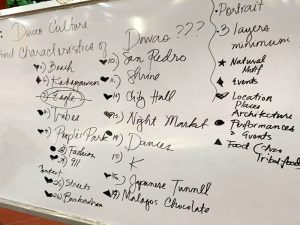 "The number 11 is a master number. It is believed that it resonates at an extremely high vibration. BaiHinang, being a group of Dabawenya artists, mounts its 11th exhibit with much optimism. Being that the number 11 is such a significant number, the group decided to echo Davao's spirit with more intensity than before. Parallel to the number 11's affinity to initiative, the group initiated a dive into Davao's identity by depicting the city's significant events & history including historical locations & Architecture. They also touch the realm of myths and legends with their brushes and myriad of colors. And of course, an all-female art group will never tire of proclaiming the significant roles that women played in the history of Davao."
This exhibit also celebrates the 83rd founding Anniversary of the city and in time for the International Women's Month.