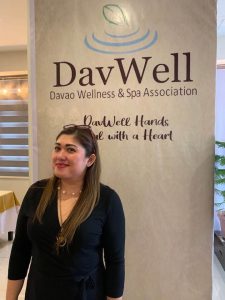 We all need that peaceful oasis which offers us an ethereal escape feel whenever we need a head-to-toe pampering. What it is to have an indulging service of a massage treatment to give you an uplifting experience with an energy recharge as a most welcome result. This is the very reason why I readily accepted the invitation of the Queen of Elysia Spa, Cherry Banquil-Al-ag, and Pressure Points Spa Princess, Fides S. Castaneda, in the induction of the new members and officers of DavWell held at the Panorama Summit Hotel last February 20, 2020. I just love and patronize Davao's legit spas and wellness centers. Yes, these beautiful, charming, bright and hardworking ladies couldn't have chosen a better date.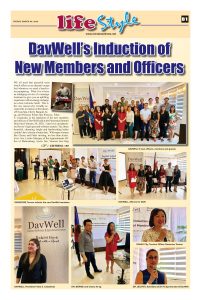 With super women like Cherry and Fides inviting, no less than Assist. Exec. Sec. Lisette Marques of the Appointments Office of Malacañang; Assist. Sec. Vanessa Goc-Ong of the Office of the Special Assistant to the President; Davao City Tourism Officer Ma. Generose Tecson; and of course, former Vice Mayor/Dr. Bernie Al-ag were in happy attendance.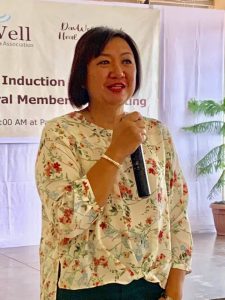 Joining the DavWell officers and members in their induction and fellowship is a sign of our sincere support for the Davao Wellness and Spa Association, the only health & wellness association in Davao City. DavWell was created in 2011 by Dr. Jielyn O. Savellano of Zhi Ya Spa together with four other spa owners when they came back to Davao from attending the 2010 CIBTAC scholarship grant in Manila which was organized by the Spa Association of the Philippines.
"DavWell was organized to create a community with a common purpose, an opportunity to volunteer with people of the same interest and business goals, and build camaraderie with fellow spa owners," informed DavWell President Fides S. Castaneda.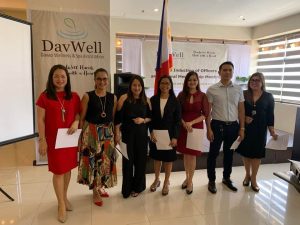 According to the prayerful Cherry Banquil-Al-ag, DavWell collaborates and coordinates with the activities of the Department of Tourism and other tourism stake holders to help benefit the Association. The Association then becomes a channel in providing jobs, especially for women, in the community.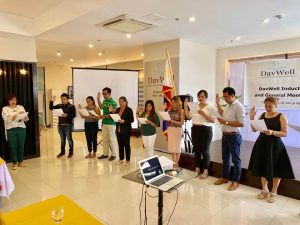 "We are a premier association which will soon be a benchmark for other spas; and we will be known all over the metro for raising the standard of the spa business. We are all committed to spiritual, social and environmental tasks…," professed DavWell Pres. Fides S. Castaneda as she also mentioned the proposed projects of DavWell for this year under her leadership.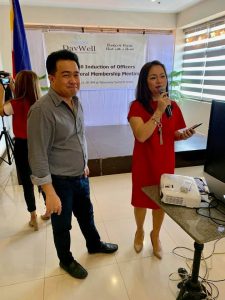 The proposed projects include adopting a community as beneficiary of DavWell's fund-raising events; support mental health awareness; partnering with Pres. Rodrigo Roa Duterte's programs like the "Malasakit Center" and promote "prevention is better than cure" activities in line with "DavWell Hands Heal with a Heart;" and provide free massage training in the community with the prospect of hiring trainees later by DavWell accredited establishments.
To end her message, DavWell President Fides S. Castaneda said, "In DavWell, we all work for the association so that the association works for us…What is good for the City is good for our businesses as well."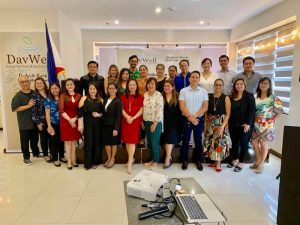 It was Davao City Tourism Officer Generose Tecson who inducted the new members and officers of DavWell. The DavWell officers include Fides S. Castaneda (President), Sumakuel B. Bution, Jr. (Vice Pres.), Concepcion A. Santos (Secretary), Ronelyn M. Llanos (Assist. Sec.), Anne Bernadette T. Gempesaw (Treasurer), Jielyn O. Savellano (Auditor), Cherry Faye B. Al-ag (PRO) and Ruth G. Castillones (Assist. PRO). ASec. Lisette Marques and ASec. Van Goc-Ong also gave inspiring messages.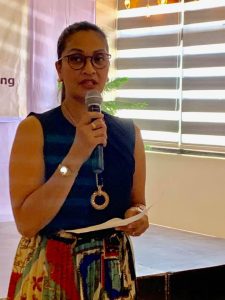 The DavWell member spas include Basic Kneads Massage and Wellness, Bioskin Tech Laboratories, Body Wish Thai Massage, Davao Holiday Spa, Elysia Wellness Spa, Firm Therapeutic Massage & Spa, K1 Spa, Miso Thai, Oriental Touch Shiatsu Center, Oriental Touch, Pressure Points Spa, Sadya Salon & Spa, Scents & Oils Massage Centre, Solaze Massage & Spa, Zhi Ya Spa Center, Zoula Oasis Spa, and Zoula Beauty and Wellness Spa.
After the induction ceremony, DavWell officers, members and the lucky guests enjoyed a delicious buffet spread prepared by chef Fides S. Castaneda's Panorama Summit Hotel.