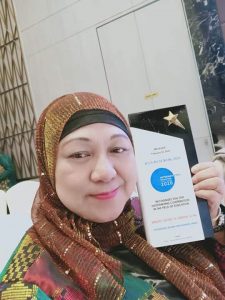 Asliyah Limbona, a woman advocate for women empowerment initiated the "Adopt a Doll" program to help in Marawi's rehabilitation after the siege. Some women from the evacuation center of Saguiran made Marawi Icon Dolls for Peace. Asliyah comes from a family of educators and writers like Dr. Abdullah Madale, Dr Nagasura Madale and Prof Asangan Madale. She was inspired to make this as her advocacy in empowering Meranao women.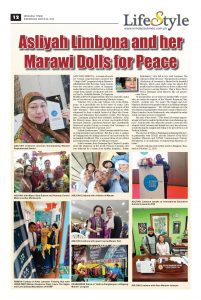 "Marawi City is the only Islamic city in the Philippines, as it gracefully sits in the heart of scenic Lake Lanao, where people derive their names as people of the lake "Meranao". Their rich culture and traditions are often witnessed by their colorful festival of flags like Pasandalan and Minarigay that manifest royalty. The famous epic, Darangen inspired their authentic traditions. After the Marawi siege, there are at least one hundred thirty thousand families considered Marawi IDPs (indefinitely displaced people) living in twenty-four barangays of Marawi City regarded as ground zero."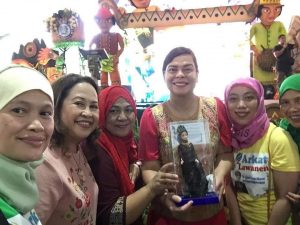 Asliyah Limbona says "Arkat Lawanen stands for women empowerment and resiliency. But this is also a catalyst of bringing back the fading interest of our local textiles for sustainable livelihood. This is a preservation of our culture and empowering ourselves as Meranao artisans".
Arkat Lawanen, from Darangen Epic Chapter 8, speaks about the abduction of the lovely Princess Lawanen. She was abducted by a sultan from another kingdom, "Sultan Salindagaw," who fell in love with Lawanen. The relevance of her advocacy "Kiyapwara eh Lawanen" (Abduction of Lawanen) is likened to the beautiful Marawi, which came under siege for almost five months and was liberated by our brave soldiers who are heroes in saving Marawi. That a Brave Moro Prince Bantugan saved Marawi, like our government forces."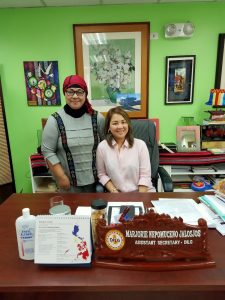 At present there are at least two hundred fifty weavers who are under the support of the Marawi Response Plan, USAID. Asliyah says "Sir Lauro Tito Ilagan and Asec Marjorie Jalosjos have greatly helped us in finding linkages with government agencies." Ms. Asliyah Limbona says she was mentored and guided by Honorary Consul of Mexico Dr. Maria Lourdes Garcia Monteverde, who adopted the entire Arkat Lawanen weavers community.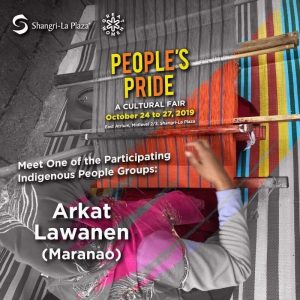 She says of her award : "This award of women empowerment will not be realized without their overwhelming support." Asliyah adds. She offers this award to everyone who adopted Arkat Lawanen and helped her carry her advocacy in introducing the Langkit and Sukip to be part of the Local Fashion Industry.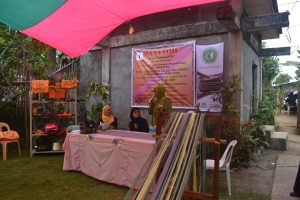 The success of "Habi sa Pagbangon ng Bagong Marawi", in partnership with USAID and the Director of the MSU Agakhan Museum and NCMF Commissioner Dalisay Macadawan is an indication of empowering Meranao Artisans."
Asliyah Limbona received the award in Bangkok, Thailand on February 22, 2020.