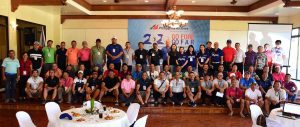 Bacolod—With its tight, bending fairways and greens that are glass-like, Marapara will be the venue of the first and final rounds of the 73rd playing of the Men's Philippine Airlines Interclub championship.
And without needing to say so, that's where the tournament will be decided.
As gusts howl at this time of year, the par-71 course designed by the late great Golem Silverio will be the beast that the Championship field would need to tame, as, like in the talented Senior division won by Canlubang, scores aren't expected to be low for the week.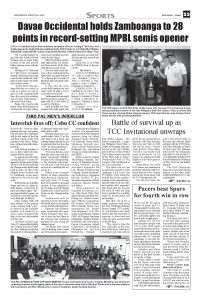 Both layouts are in perfect shape and vary in character, with Binitin—aside from its thick tree-lined roughs—having unpredictable bounces on its fairways and small greens as its final line of defense.
Cebu Country Club will open defense of the premier crown coming from a lower division in the Founders bracket, as it would try to write a piece of history that only it can own with another win this year.
On home soil last year, Cebu CC surprised the field by also coming from the Founders class, leading from the first day and never relinquishing it to duplicate what only Aguinaldo did in 1988.
Winning again this year would make Cebu CC as the only team to do it twice, and playing skipper Bayani Garcia is optimistic that they have the tools—and the preparation—to pull it out back-to-back.
"Everyone that has come here has come very well prepared," Garcia said. "Whether we play in the Championship or the Founders (division), we will give it our best shot and we are confident that we can do it."
Player point averages (PPAs) of teams determine what division it will land in, and with Cebu CC losing three of its regulars to personal reasons, it was relegated to the Founders and left Manila Southwoods, Luisita and Del Monte in the Championship derby.
Southwoods will be shooting to touch off another title streak here as it brought in a team loaded with firepower.
Japanese Yuto Katsuragawa spearheads the team, which activated Vince Lauron to join Jun Jun Plana as the veterans and steadying presence of a very young yet talented squad.
Del Monte and Luisita will be fielding teams made up of its grassroots program.
Hosted by the Philippine Airlines, the international event was backed by platinum sponsors Asian Air Safari, Vanguard Radio Network, Fox Networks Group, Radio Mindanao Network, Inc., Asian Journal Publications Philippines, Inc., Auto Nation Group, Inc. (Mercedes Benz), and SMDC.
Major sponsors include The Boeing Company, University of Mindanao Broadcasting Network, Avolon Aerospace Singapore Pte Ltd, Manila Broadcasting Company, Primax Broadcasting, Rolls-Royce Singapore Pte Ltd, CIGNAL TV Inc., Travellers International Hotel Group Inc. (Resorts World), and Airbus.
Other supporters are Uniglobe Travelware Co., Inc. (The Travel Club), Philippine Manila Standard Publishing Inc. (Manila Standard), Officine Corporation, GE Aviation, SEDA Hotels, BDO Unibank, Smart Communications, Inc., People Asia Magazine, A+E Networks Asia (History), Allianz PNB Life, Phoenix Petroleum Philippines, Tanduay Brands, Rockwell Land Corporation, Petron Corporation, Splash Corporation, AB Heineken Philippines Inc., and Asia Brewery Inc. – Summit.