Team Davao City Golf Club placed fourth in the Sportswriters Division in the recent 34th Philippine Airlines Seniors Class played at the Marapara and Binitin layouts in Bacolod City.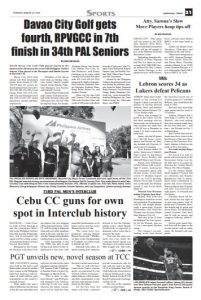 Davao City Golf Club tallied 428 PAL Stableford points from rounds of 108-100-99 and 121 points for fourth behind Van City Golf-1 451 (120-106-116-109), Coral Ocean Point 436 (116-102-108-114) and Sarangani Golf 434 (106-112-95-121) which placed first, second and third, respectively.
Members of the Davao Golf Club are Benhur Villarosa, Jimmy Dureza, Isagani Gascal, Elmer Basilia, Napoleon Manajero, Jun Narciso and Edernilo Aceron.
Rancho Palos Verdes Golf and Country Club placed seventh in the 26-team roster with 420 points (101-103-107-109) having Noe Taojo, Joe Tesado, Abraham Dizon, Jun Serado, Lito Dublan, Deo Cura, Johan Dalmacio and Randy Cadiogan on its roster while Lanang Golf settled 8th place with 415 (104-109-101-101) bannered by Bobby Dakudao, Paul Anthony Dakudao, Dennis Salvador, Roberto Plana, Bong Belen, Robert Te and Andrew Pineda.
Other city bet Apo Golf and Country Club wound-up 10th in the Aviators Class with a total of 438 points with efforts from Soc Cadayona, Celso Villegas, Faisal Samanodi, Regino Dennis Capa, Jun Horfilla, Norben "Bok" Mata, Chito Nucum and Joel Yamyamin.
Hosted by the Philippine Airlines, the international event was backed by platinum sponsors Asian Air Safari, Vanguard Radio Network, Fox Networks Group, Radio Mindanao Network, Inc., Asian Journal Publications Philippines, Inc., Auto Nation Group, Inc. (Mercedes Benz), and SMDC.