Davao City – Nine teams will see action in the 2020 Atty. Sarona's Slow Move Players basketball tournament which will tip off tonight, 6 p.m. at the Montana Gym and Recreation Center.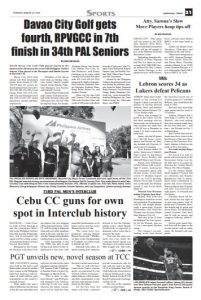 Defending champion Doclic/MCF of Rene Tagalog and Doc. Lic takes on a new revamp RACABS/JMD line-up anchored by Ray Cabrera and Joefer Deniega in the opener at 6 p.m. while Sarona/Perez (Jeremy-Jass) battles BMCC in the main tussle at 7 p.m.
Games are played every Tuesdays, Thursdays and Saturdays at the said venue.
Other teams seeing action are JAPS, Sanman/Putragis, Ion Red, Globe Telecom, and Davao Bless.
Thursday matches (March 5) are JAPS versus Sanman/Putragis at 6 p.m. followed by Doclic/MCF next to BMCC at 7 p.m.